Sports and sporting events are peerless when it comes to their ability to fuel passion and ignite a sense of community. Clearly, this is not lost on sponsors who spent to the tune of $46 billion in 2019, trying to capitalize on the emotional rub off effects of fans for their brands. But there is a gender disparity that may be leading to sponsors missing out on great opportunities. Women's games account for only a tiny fraction of the total spend in sports sponsorship. One estimate found that between 2011 and 2013, women's sports sponsorship accounted for just 0.4 per cent of all sports sponsorship. That's just $4 for every $1000 spent by brands on sport.
Turning the tide
The cause may be that women's professional sports have historically trailed behind their male counterparts in popularity. However, the currents may be starting to swing globally, if recent trends are anything to go by. According to a 2018 Nielsen study on women's sports engagement, more sports fans today not only enjoy but also believe in the women's sports industry. Of the 84% general sports fans with an interest in women's sports, 51% are male, implying that both men and women are consumers of women's sports. Recent trends and viewing figures in women's sports only reaffirm this. When tickets were released for the FIFA Women's World Cup in France in June 2019, the allocation of 5,000 tickets for the qualification game between Wales and England on 31st August sold out in 24 hours.
According to official data, FIFA Women's World Cup in 2019, attracted a global unique audience of 993.5 million with the final between United States and Netherlands receiving an average live audience of 82.18 million. These numbers when compared to the previous world cup in Canada are up by an astonishing 30% for the tournament and 52% for the final. Viewership in women's sports is growing much faster than that of its male compeers. The ICC Men's Cricket World Cup, played around the same time in the UK had a global reach of 706 million, seeing an increase of 18%, while the viewership of ICC Women's World Cup was up by 33% since its last edition. The most recent FIFA Men's World Cup, on the other hand, reached 3.26 billion individuals and the viewing figures were up by just about 9% since the previous tournament.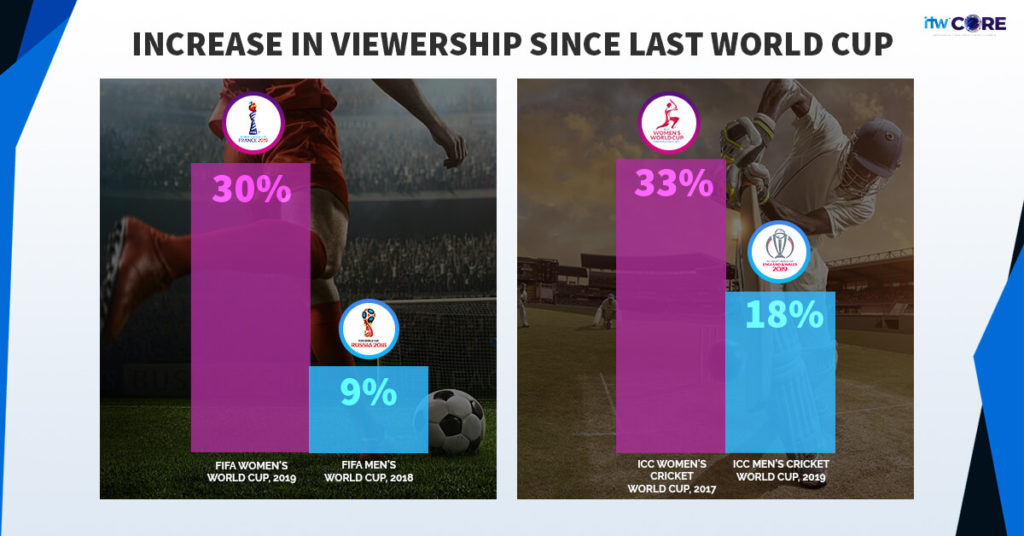 These larger trends point to a significant change in the landscape of sports viewership appetite and consumer culture. Women's sport growth and scale is reaching new heights, thus increasing the value proposition for brands continuously. The recent multi-million dollar sponsorship deal between PepsiCo and UEFA women's football for 5 year highlights that brands may be waking up to this opportunity.
Better returns
The cost of sponsorship for the FIFA men's world cup was around 7-8 times that of women's world cup, while the global reach of the men's world cup was only about thrice the women's world cup. Arkema, a French chemical company, was the first French official sponsor of the FIFA Women's World Cup. The event sponsorship cost the company around $1.17 million, while it would have cost 8 times more to sponsor the Men's World Cup in 2018. So, they spent about $1 to reach 1000 people in the women's world cup, which is roughly half of what they would have had to spend to reach the same number of people in the men's world cup, which is $2. Thus, sponsorship in women's sports seems like an untapped opportunity for brands, due to its rising popularity and lower investment. It provides brands an affordable entry point along with balanced pricing and rising reach. Companies quite simply are able to avail higher value for each buck spent.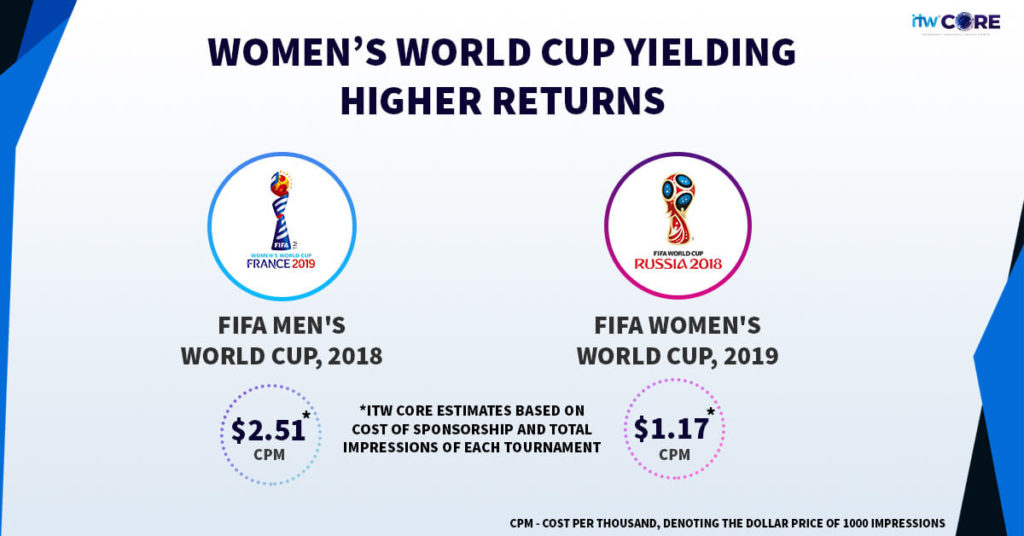 This proves to be especially useful for smaller brands. Lower entry-points can open up an opportunity for brands who may not ordinarily be able to get into sports sponsorship. This essentially means that a whole new, much broader pyramid of brands would be able to get involved in sponsorships. Right now brands have a unique opportunity to lock in long-term partnerships at current rates knowing that the value is going to increase in the coming years giving them not only value for the money spent but also a level of certainty in their future marketing plans and calendar, which seems like a very lucrative opportunity.
This, however, is not to say that sponsorships in men's tournaments do not make sense anymore and that brands should abandon men's sports altogether. Men's and women's sports might have different target groups companies might want to reach to. However, investment in women's sports is something that brands should definitely explore, given that they seem to hold a wealth of opportunities.