A look at why Cristiano Ronaldo's entry into the billionaire club is brewing a perfect storm for the commerce of sport, as ITW Core's Devanshu Bhatt traces the journey that led to the making of the world's first billion-dollar footballer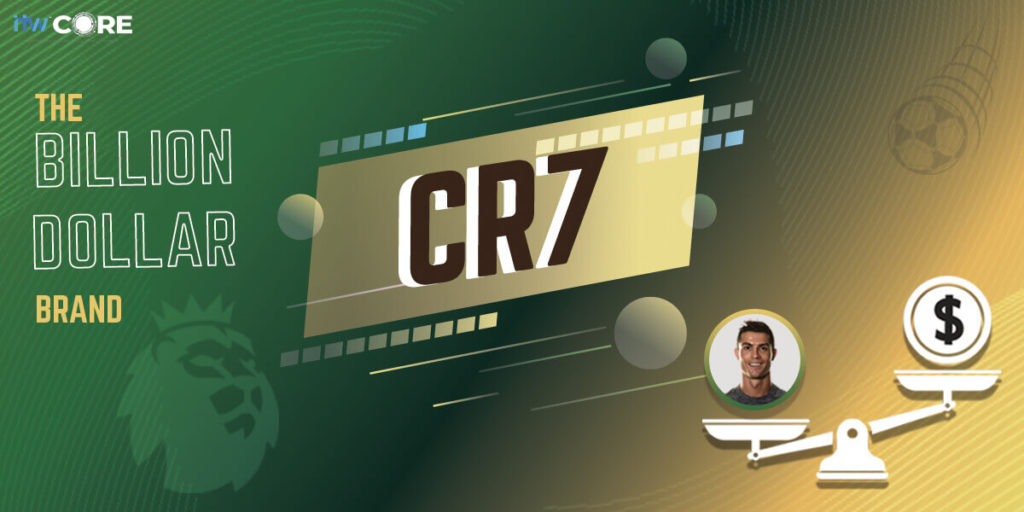 The battle between Cristiano Ronaldo and Lionel Messi has been raging for the greater part of the last decade. Between the both of them, they have broken every conceivable record. However, Cristiano Ronaldo has taken the battle beyond the football field. According to Forbes, he is officially football's first Billionaire. In doing so, he has become only the 4th sportsperson to be able to make a claim to that title. The other 3, that is, Tiger Woods, Floyd Mayweather, and Michael Jordan, are all American and only 1 of them played a team sport. Even Jordan only became a billionaire in 2014, over a decade after his retirement and from a sport which can be argued to be more individualistic than football. All these factors only make Cristiano's achievement more amazing. The question then arises: How did he do it? For one, it helps that he plays football. It is the world's most popular sport and the barring the Olympics, the Football World Cup draws the highest sports viewership. In fact, by some estimations at least 3.5 billion people watched the world cup in Russia with over a billion viewers for the final. That sort of global reach makes football the obvious choice to produce a billionaire.
Playing catch-up to the United States
It has always been immensely popular, but there has been a different sort of trend in the last 30 years that has made it the perfect place to produce a sporting billionaire. This was that football leagues finally started cashing in on the sport's popularity. Unlike American sports, the European leagues were always a bit behind in terms of commercialization. Whereas players were already endorsing companies, leagues did not do so till much later. The Superbowl was already conducting half-time shows by 1970; meanwhile, the Champions League and Premier league woke up to rebranding only in the 1990s. It is no wonder then that the previous three billionaires were all American. Perhaps European leagues felt they didn't want to give over to corporate interests to protect the sanctity of the sport. Whatever the case, it was impossible to escape the allure of the huge commercial potential that football possessed. And so, it happened.
While today all leagues are commercial one of the most successful ones has to be the English Premier League. It used to be part of the old English Football League as the First Division. It existed on a model of sharing — gate receipts were shared with the visiting team and TV revenue was shared equally between all the clubs. It was meant to promote a sort of equality, and it served that purpose to a large extent. This coupled with the fact that the BBC paid meagre amounts of money to broadcast the matches meant that clubs, particularly the big ones were left unsatisfied. Despite changing the way that the money was shared to benefit those at the top, the clubs at the top were still not satisfied. It was thus that they decided to break away. In many ways it made no difference — the league was played out in the same way — but in other ways, everything was different. The first division or the Premier League as it was now known could negotiate its own TV deals. Watching these matches was no longer free. This meant an unprecedented amount of money flowed into the league, which the 22 teams (as opposed to 92 before) could distribute amongst themselves. And even though the bigger clubs commanded a bigger chunk of the pie, everyone was better off. The truth is that in the top division at least, even if the club is paid a small portion of the TV money, it still earns far more than it would have otherwise.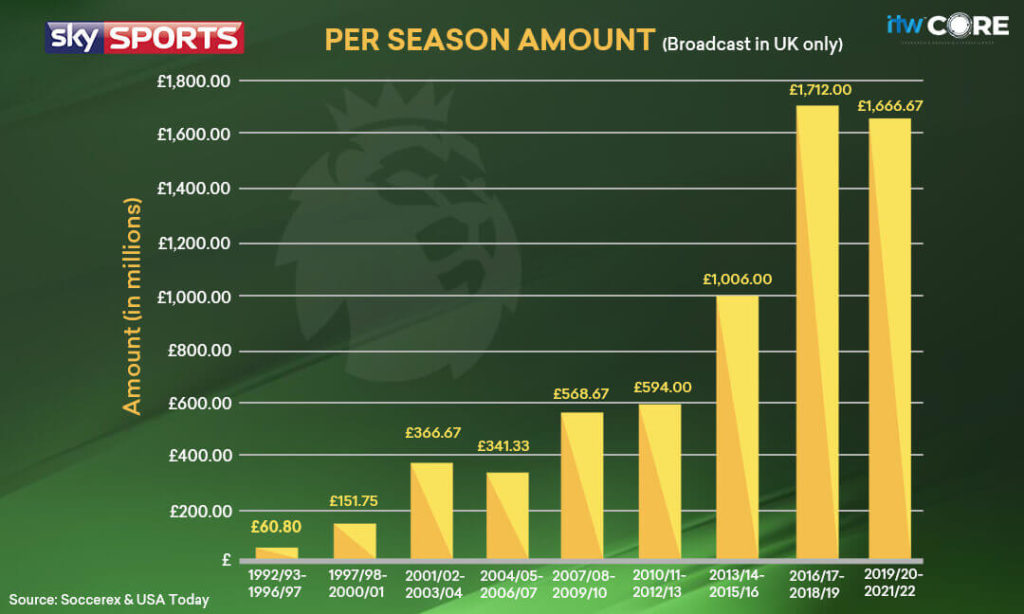 In 1992, the broadcasters were paying roughly £61 million a season to broadcast the league. That value has now risen to £1.67 billion. Even adjusted for inflation, this exponential change is evidence of how immense the commercial revolution in football was. The logic is pretty simple — As clubs got richer, they attracted better players, which in turn drove up viewership, which in turn attracted even better players, so on and so forth. This sort of popularity is seen all the professional leagues, be it the Champions League, the Spanish League (La Liga) etc. Naturally, the influx of so much money reflected in the transfer values the clubs were willing to pay. The 10 highest transfers of all time have all exceeded €100 million. Nine of those have come in the last 5 years alone, and the biggest of them was a transfer of €222 million. Most journalists talk about transfers today with words like, "in today's market", illustrating the level of inflation in transfer values.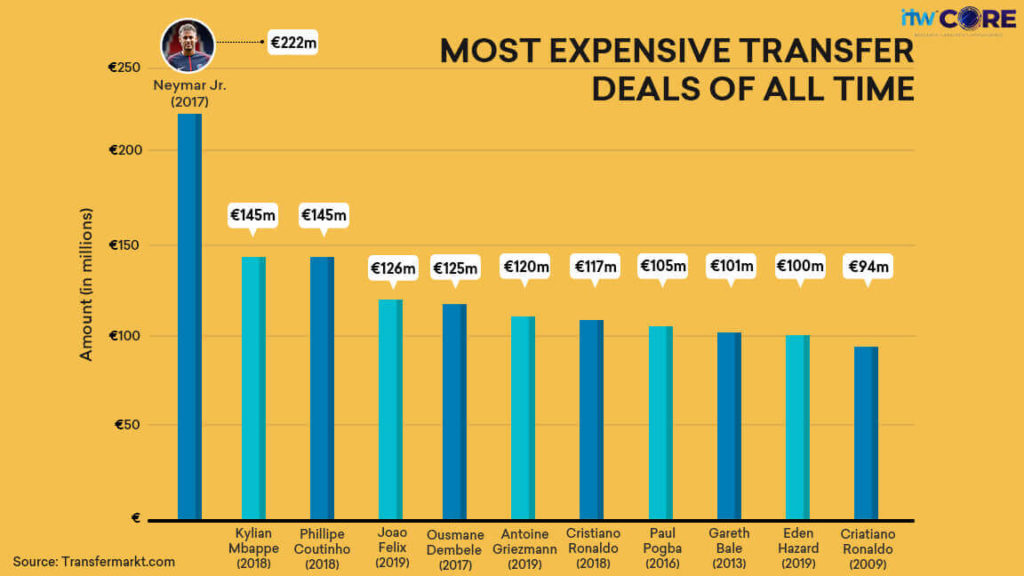 Money changing hands: From the club to the player
This growth in popularity also translated from the game and the clubs to its players and their earnings. Players had been famous before, but none of them were superstars in the way that the modern player was. One of the first of these superstars was David Beckham. What separated David Beckham from the rest was that he behaved like a superstar. Everything he did was recorded and every one of his haircuts was the trend for the rest of the year. The real icing on the cake was when he started dating and eventually married Victoria Adams (now Beckham), a pop star from the Spice Girls, who were no less than a sensation themselves. This made him immensely marketable. And it showed. Beckham eventually moved to Real Madrid to become a part of their legendary Galacticos squad for a sum of €37.5 million. This was high by the standards of 2003, but not much in today's market so to speak. Thereafter, Beckham made his biggest commercial move. While many criticized his decision to move to Major League Soccer from a career perspective, even they cannot deny that Beckham's move in 2007 was a blockbuster move to say the least. Forbes estimate that the move earned him an eye-watering $255 million. The reason this is even more noteworthy is that he did so in the twilight of his career. About $50 million of this was owing to payments from the team and the rest of the $200m came from endorsement deals.
But the truth is that as much as Beckham benefitted, the league benefitted more. MLS has grown from a measly 12 teams to 26 today, one of them being Beckham's own Inter Miami. While Beckham didn't bring in all the teams and growth alone, he brought with him star power. Like his hairstyles, footballers started copying his career path, spending their twilight years in the MLS, where they were paid more and were less physically strained than in Europe. The list includes the liked of Thierry Henry, Zlatan Ibrahimović, Steven Gerrard, Frank Lampard, Pirlo And David Villa, all heroes in their own right. The influx of star power grew the league, but none of it would have been possible without Beckham, such was his influence. In fact, the sum of money paid would be a bargain in comparison to the returns the league would enjoy on the back of Beckham's popularity. But even Beckham could not reach the billionaire mark.
Ronaldo jumps into the fray
Perhaps there is something poetic about Ronaldo's story. When he joined Manchester United from Sporting Lisbon, he inherited David Beckham's number 7 shirt. The surprising difference between Beckham and Ronaldo is that when Ronaldo came to Manchester, he was far from a superstar. A simple look at two photographs from before and now would make this abundantly clear. There was another difference however. While Beckham was a great footballer in his own right, he did not possess the ambition that Ronaldo did. Perhaps ambition is an understatement. He was obsessed. Ronaldo would not settle for anything less than the best. Most football fans would agree that he is the hardest working footballer there is, even now. So, he quickly bulked up to suit the physicality of the Premier League. And then he began his mission of trying to smash every conceivable record. His performances were great, and he was in one of the most successful teams of all time. This was the how he started building his brand, first on the field and then off it. Eventually, in another poetic moment, he decided to move to Real Madrid, much like Beckham. When he did in 2009, he was the most expensive player ever at £80 million.
From Great to Legendary: Building the brand
Once he moved to Real Madrid, he began his fabled rivalry with Lionel Messi, an El Classico in itself. They pushed each other. Both on and off the field. Their rivalry unleashed the commercial potential the Spanish League did not know it had, and both Ronaldo and Messi knew that. Every time Lionel Messi had his salary go up; Ronaldo did the same. And vice versa. They knew they could command what others could not, because they always delivered, and they were the most popular players in the world's most popular sport. Endorsements flooded in from every corner. Ronaldo signed with Nike to start the CR7 line, much like Michael Jordan's Air Jordan. Not unlike Jordan's iconic number 23, Ronaldo made his shirt number a part of his personal brand too. Messi also got his own line with Adidas. Their personal brands were similar in every way, barring maybe one. And perhaps this is the reason Ronaldo beat Messi to the punch. And it is quite simple — he looks and feels like a star. Ronaldo is tall, muscular, good-looking and seemingly has a brashness to his attitude. Messi is a quieter figure. These are as much part of their brands as their performances. Both have a sort of rags-to-riches story, with both having to overcome immense hardships to get where they are. Even now, at their advanced age by older standards, they play at the highest level and set the benchmark for younger players to emulate. Both are extremely charitable as well, meaning they make for perfect role models.
To illustrate the brand value of Ronaldo, there is perhaps no better example than his transfer to Juventus for a value of €117 million. In the lead up to the transfer, Juventus' stock price literally doubled overnight. Within 24 hours of his announced signing, Juventus sold $60 million (€51 million) worth of jerseys with his name. While they won't get all the money, it is still substantial, and more importantly it indicates how much viewership and following Juventus can attract. Even if he didn't play much football, he'd still be a positive addition to a team. Ronaldo has also added a new angle to his persona. He is now also a family man. He regularly posts pictures or videos of himself on social media with his family. On Instagram, he has the greatest number of followers of any person ever. He reportedly makes $975k per post.
It is perhaps unfortunate for Beckham that he did not have social media while he was playing football, else he might have been a few million dollars richer. In addition, Ronaldo also has a few businesses. He has really captured the full potential of his brand to reach that billion-dollar mark. Though I don't think Messi will be far behind. There will be a lowering of values because of the pandemic, but in the long term, the trend should recover. And if it does, football could be poised to produce more billionaires. But even so, they would have to create the perfect storm, much like Ronaldo, who has perhaps laid down a framework for all future footballers to try and emulate.