BASED ON REAL LIFE EVENTS
BCCI should make M S DHONI Indian cricket's first ever Player – Coach! Here is why …Read On…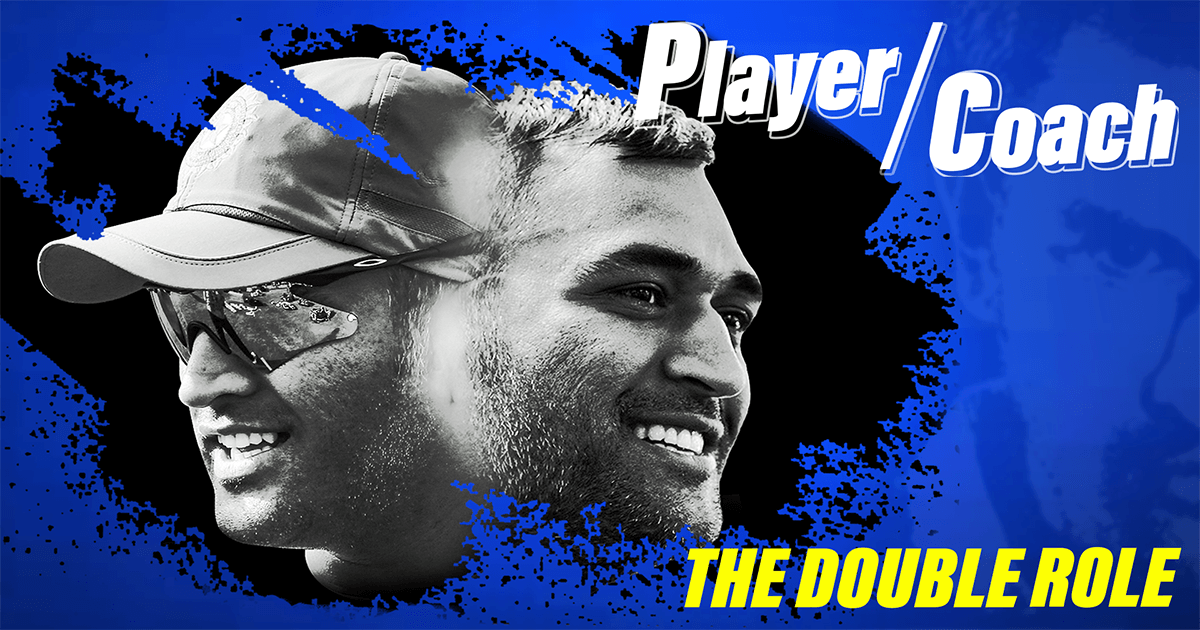 Former players often become coaches and managers, but a really exciting prospect is when an active player wears both hats at once [1] – the recency of their experience and wisdom can be a supremely valuable combo. Which brings us to the curious case of cricket in general and MS Dhoni in particular. Cricketers' careers, in general, tend to be longer than the typical sport, and the game itself has a lot of room for strategic input on the field. Its stop-start nature and the need to strategize on an ongoing basis manifests itself in the mid-pitch player conferences we see with many teams and captains these days, plotting their next move or adjustment. In the Indian set up, MS Dhoni has featured as a one-man think tank who has been called on for advice even after he relinquished captaincy duties for India in the limited overs formats. From Rohit Sharma to Virat Kohli, Indian captains have publicly admitted to seeking counsel from MSD and acting on it.
Cricket's relative languid pace, and the abundance of matches where everything doesn't depend on one outcome, makes it fertile ground for trying this idea out.
Could India potentially try it out with MS Dhoni in the limited overs arena? Hear us out.
Dhoni technically remains active and available for selection in ODIs and T20Is although, since the World Cup, he has taken a hiatus serving a stint with the territorial army and wasn't been picked for India's home series against South Africa. His status has become a matter of consternation and hand wringing, primarily because the selectors seem unsure of what to do with Dhoni, the player, while not willing to jettison the wisdom Dhoni, the cricket sage, brings. Anil Kumble recently put it well: "For the team's sake, the selectors need to sit down [with Dhoni] and have a discussion around what the plans are because it's important that things be communicated."
Incidentally, over the years, not only has Dhoni added to his cricket skillset but his ability to evolve multifaceted abilities make him a Swiss Army Knife of a cricketer, the likes of whom we are unlikely to see on the field for a long while again. Given that he is still reasonably fit, being appointed player-manager allows him to bring insights at both a tactical (on-field) and a strategic (off the field) level. Sanjay Manjrekar had said about him earlier in the year that, "When he (Dhoni) came onto the scene, he was just an explosive batsman. He soon became a good wicketkeeper and eventually a good captain. Today, he is three-in-one."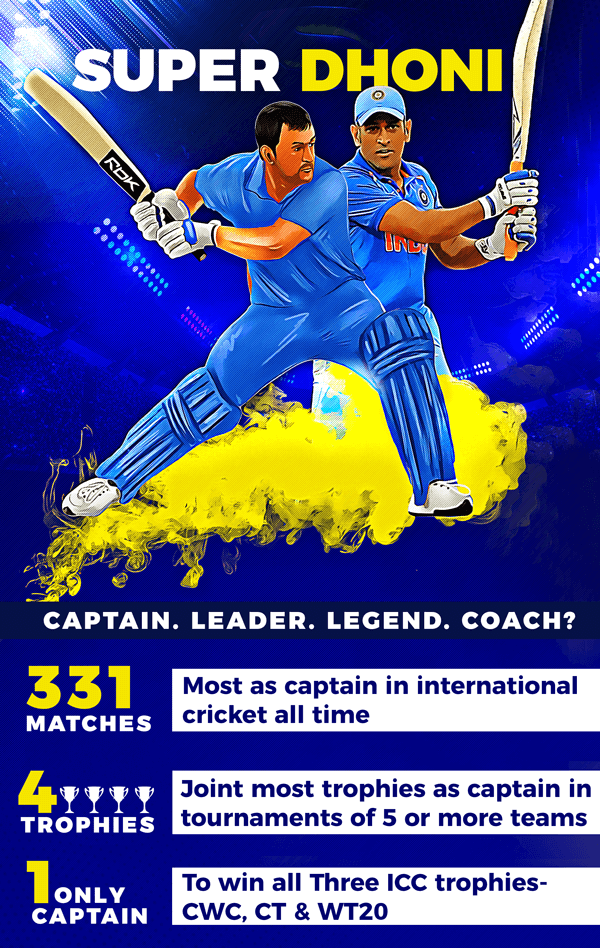 Our recommendation is that Dhoni should be appointed player-manager. And we base this recommendation on three important ways that he can contribute in this unique role.
1. Dhoni, the sage counsel on the field:
Whether it was Mohammed Shami who after his hattrick against Afghanistan at the World Cup said, "I had MS Dhoni's advice in my mind. He told me, 'World Cup hat-tricks are rare, just bowl a yorker. This is your chance.' That's what I did." or Kuldeep Yadav admitting that "[Dhoni] speaks only between overs if he thinks he needs to point out something", Dhoni's ability to read a game situation and pass on actionable advice to bowlers, fielders and even the batsman at the other end is something that remains sought after.
Dhoni himself remains an astute student of the game, a constant learner who absorbs cricketing knowledge like a sponge. During the World Cup he was seen having a chat about his batting technique against spinners with coach Ravi Shastri after a disappointing outing against Afghanistan. His ability to funnel such cricket wisdom from diverse sources into the dressing room if he were in a playing and managing role simultaneously could be uniquely valuable.
---
2. Leadership lessons on the go:
Tactical nous is great but to survive in the competitive world that is cricket, you also need avant-garde leadership skills. India's current skipper, Virat Kohli, seems to realise that he needs to hone both of these skillsets and often is seen using Dhoni as a real time sounding board for ideas as the match develops on the field.
As Dhoni's childhood coach, Keshab Ranjan Banerjee, pointed out in an interview before the World Cup, "In terms of match-reading and forming strategies, Dhoni is still unparallel (sic). Even Kohli doesn't have that. So Kohli needs to take some advice." Dhoni has had an outsize impact as a leader since that fateful September day in Johannesburg when he asked Joginder Sharma to bowl a high pressure last over in the World T20 final in 2007. He can instil confidence in players who at first brush seem to have nothing extraordinary in terms of their ability.
For Chennai Super Kings, the IPL franchise he captains, Dhoni chiselled players like Ravindra Jadeja and Suresh Raina into proven matchwinners and surprised everyone with the level of effectiveness he was able to eke out of bowlers like Manpreet Gony, Mohit Sharma and Deepak Chahar, who recently became the first male Indian player to take a T20I hat-trick and recorded the best ever T20 figures in the process. He figured out how and where their abilities will be best deployed, trusted the process and backed them to give them the confidence they needed. More crucially, he constantly provides them real-time feedback, something Chahar acknowledged saying "When in trouble, I recall Mahi bhai's tips". These players' records speak for themselves in terms of how the results turned out. Dhoni's skills of assessing when to put someone into the deep end and his success levels with such moves is incredible.
Only a presence that straddles both sides – on and off the field – can perhaps pass this ability on, because it is hard to write a user manual for leadership.
---
3. Experimentation + innovation:
If India want to be looked at as pioneers in this modern era of cricket, they need to take a few risks. For a team that is looking to push boundaries, in terms of management and leadership, the choices the selectors and the BCCI have made are often conservative and more to do with preserving status quo. Appointing Dhoni in a pathbreaking role of player-manager even if the player part of that role lasts only a short while could be a good jumping off point to break out of that ennui. With the next ODI World Cup a while away, there isn't a huge amount at stake, and as the limited overs team seeks to rebuild its engine, you'd want the best engineer in the middle and in the dressing room.
Those two just happen to be, in our assessment, the same person – MS Dhoni.
Will Saurav Ganguly's BCCI (where the new chairman has already shown his willingness to experiment by pushing for the day-night test match) push for M S Dhoni in the player-coach double role? Will Mahi agree to this unique Challenge? Well…It takes two to Tango!
Let a new era dawn.

---
1 NBA legend Bill Russell was player-coach at the Boston Celtics between 1966-69. Kenny Dalglish was appointed player-manager at Liverpool FC in 1985 (he led the English football club to a league double that season). Another English club, Chelsea, had a succession of player-managers, Ruud Gullit and Gianluca Vialli the most memorable among them. And at the start of the 2019-20 season, we saw former Manchester City player Vincent Kompany appointed player-manager at Belgian club Anderlecht.