Influencer marketing is no longer just about paying Kylie Jenner a million bucks to talk about your lipstick brand on her Instagram. In these tumultuous times, it's an essential tool to connect closely with customers and craft your brand's messaging to reflect changing times.
By Hitesh Mangtani and Tareque Laskar, ITW CORE – ITW Consulting Pvt. Ltd.
Nike has a lifetime contract with basketball superstar LeBron James, estimated to be worth $1 billion, the biggest brand ambassador deal in history. But as markets evolve with consumers' evolving habits, marketers and strategists might increasingly find that brand ambassador deals like LeBron, are an exception.
The fact that mass media is getting more fragmented and personalized platforms are taking over, is almost a cliché at this point. But it is crucial to understand the drivers of these changes if brands are to adjust to this new reality that we are moving from a rigid world of brand ambassadors to a fluid, flexible and effective, world of influencers.
Marketing is a form of revealing what the organization believes in & what it stands for. Standard industry techniques – e.g. mass media ads – are no longer the "only" way of sharing a brand's message. A lot of the changes in this landscape is being driven by increasing digitization, which has made it easier to both promote & consume content.
An increasing number of consumers are logging online, and an ever increasing proportion of them are using and engaging with social media platforms of every kind. This has meant that we have moved rapidly from mass media ads to targeted ads to the final frontier – ads that are not ads at all but a conversation with the consumer.
India is primarily a DIFM (do-it-for-me) market, where digital enablement plays a significant role in market capitalization for & of the brand (Digital presence opportunity for India's web pros).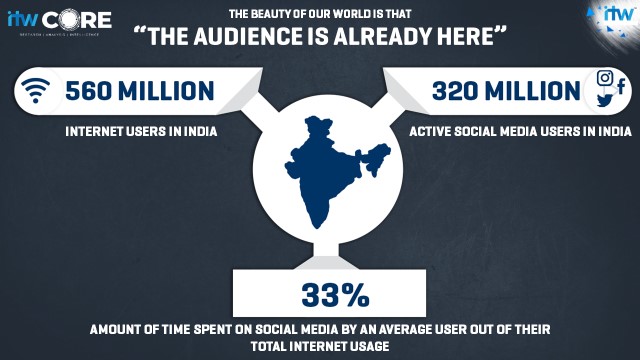 The other half is Social Media. There are 320 Mn active users across social media platforms & these potentially comprise of the passionate fans and followers who play a significant role for brands & the ambassadors who would be the face of their brands in segmented regions of the nation as these are users who spend 2-4 hours per day on their mobile-phones (Growth of Internet Users in India) out of which 33% of the time is spent on social media (GlobalWebIndex Report).
All this makes the situation particularly suited for, influencer marketing. A term that was only associated with lifestyle brands & pop stars. It has emerged as a powerful tool, that is uniquely suited to all kinds of brands, and across a wide range of the target audience.
A lot of brands still prefer to take a top down approach and use the influencers with the biggest reach and clout (e.g., Virat Kohli who has a combined following of 90 Mn on Twitter and Instagram), but typically such an option is costly. To wit, Kylie Jenner is paid $1 Mn for every promoted Instagram post, the comparable rate for Cristiano Ronaldo is $750,000.
Not all brands have that kind of the financial capital!
A smarter strategy is to use more influencers promoting the brands rather than using just one-big-influencer, giving them relatively similar reach (considering all characteristic parameters & difference) in their respective target-groups but in a cost-effective fashion.
This school of thought has seen more marketers warm up to the concept. In a general market sense, 65% of the marketers and strategists prefer Influencer Marketing strategy to increase brand awareness and re-call. With the increasing popularity of influencers both at the macro & micro level, 50% of the respondents in Zefmo Media's survey "India Influence Report 2019", felt that it is effective in managing the reputation & sentiments of the brand (Social Samosa).
47% of the respondents for the Zefmo Media's India Influence Report 2019, feel that the influencer marketing strategy is effective in reaching out and convincing the new target audience (Influencer marketing breaks new ground-ET BrandEquity). Strictly from an industry point of view, 94% marketers/strategists find influencing strategies more effective, and 85% of them continuously explore innovative ways to collaborate with social media influencers (Influencer marketing breaks new ground-ET BrandEquity).
Innovation & exploring strategies comes at a cost depending on the type of association a brand is looking for, with an aim to reach a specific target group as per the segmentation & implementation plan. Company Executives & Strategists (76% of them) felt the need to increase the marketing budget in-order to work with the specific influences who may be the "best fit" to promote their brand & get more visibility.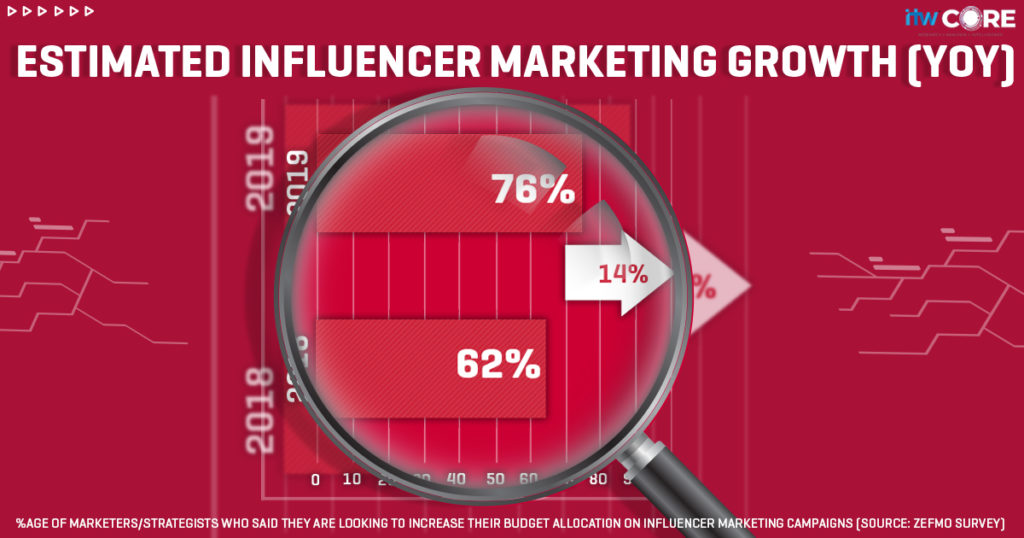 The upshot is that Influence marketing has become an essential marketing channel, a necessity because of the impact influencer marketing can have on consumer. The effect is so huge that consumers are more likely to make a purchase decision based on influencers because of authenticity and affinity. Consider Nike's case again. Lebron James may have been NBA's Top Shoe Seller in 2017 but if you look under the hood, micro influencers have a significant say in making the brand Nike is today.
A Father-son YouTube duo who run the channel "What's Inside?" partnered with Nike to come-up with 7-sponsored videos documenting their trip to Nike's headquarters, and in one of those videos they cut Nike's newest shoe, the Air Vapormax, in half. They have a base of 6.83 Mn YouTube subscribers. The content distribution strategy served to fuel awareness & buzz for product launches & availability, eventually swelling the chances of to attract first buyers.
UnAcademy's* efforts to make its learning platform free in the face of a COVID 19-lockdown is another good case in point. All they wanted was to step-in & help. The platform decided to become open for all offer all its live classes for free (usually had subscription charges) for 3-months, i.e., March-May.
The E-learning platform decided influencer voices such as Harsha Bhogle, Virender Sehwag & etc. from the world of cricket would be the perfect blend of credibility and reach to offer advice on taking advantage of this initiative from the brand.

It's crucial that the message is credible (otherwise constantly changing messaging may cause confusion) and that's why they used the influencer approach to reach out. Marketers have long known how they make customers feel, is what establishes a key emotional brand connect. Now, they have one of the most versatile tools in their hands to achieve that.

[*Disclosure: ITW 360, the Celebrity & Talent management arm of ITW Consulting Pvt. Ltd. facilitated UnAcademy's campaign.]