Fans are no longer just watching sports for sports' sake. They demand an experience, and sporting administrators, teams and brands will do well to oblige them. Fan Engagement should be a top item on the agenda, be it for the teams or the leagues.
Fans are the heart of any team. Both metaphorically and financially. The equation is simple, the more the people that watch you play, the more income you receive. Be it through TV deals, gate receipts or even sponsorship. It is no wonder that sports teams and leagues are looking to find more fans for themselves. Most teams, leagues and broadcasters have Social Media teams giving updates, taking polls, posting quizzes and finding ways for fans to interact with players amongst other things. All of these are ways for the fans to feel more involved in the sport. Some teams are looking to build bigger and better stadiums to increase revenue from that avenue. However, the question is, what else can those in-charge do?
Connect with your younger fans
The best way to capture the engagement of fans in the long term is to appeal to them while they are still young. They are much more impressionable, meaning younger fans are much more likely to form a bond with the sport or the team and when they do, they are also more likely to remain loyal to the team of their childhood.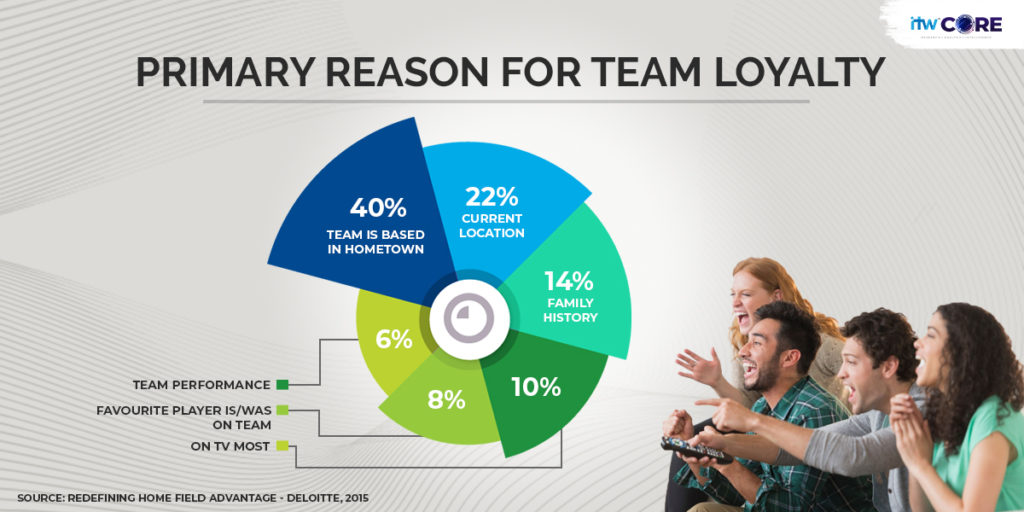 A 2015 Deloitte report (based on a survey) highlights that up to 76% of the reason fans support a given team is because of factors such as Hometown, Current Location and Family History alone. Another study done by The Telegraph newspaper in the UK in collaboration with Google trends also takes a look at this. Using search traffic as a proxy for 'support', they find similar results. This makes sense because most sports teams aren't international powerhouses, and thus, the fact that a particular fan supports a team based on location or location history makes perfect sense. Thus, most of the younger fans actually watch their local teams while growing up, and engaging with them is that much easier. What they need is an experience to remember. This can be simple community meets with the players who are their heroes, a small training session or game with those players or even a matchday experience with their families. A memorable game, be it win or a loss on any such day can lead to the creation of lasting memories with that team.
The same report also divides fans based on 3 sub-categories that were self-reported. These are Casual Fans, "Love of the Game" fans and Fanatics. And these differences in fandom translate into engagement including spending. Fanatics are 7 times more likely to be high-engagement fans than casual fans. Despite similar incomes, Fanatics spend almost 6 times more on league-related purchases and are twice as likely to have made the purchase in the last year. Down the line, if a younger fan becomes a fanatic, they are much more likely to spend on the club. Moreover, Deloitte's study also shows that even amongst adults, Millennials are 20% more likely to be Fanatic supporters and 42% more likely to be high engagement supporters. Thus, engaging with the younger fans is cheaper in the short term and will yield more returns in the long term.
Improve the Quality of Engagement
Engaging young fans might be important, but any such endeavour is aimed at yielding long-term results. In the shorter term however, teams need to look at how they engage the fans they already have in a better manner. This can be done to an extent with social media polls or fantasy leagues, but they're still not personalized experiences. A great way to do so would be help promote fan-led endeavours like supporting influencers' who attend matches and give other fans an idea of what it is like to be in the stadium and what a typical matchday looks like. Another way would be to support fan clubs by directly voicing their opinions on their official social media. However, influencers have much smaller bases of supporters to cater to and can engage much more effectively.
Examples of what brands have already done include Heineken's #sharethesofa campaign for the UEFA champions league was a simple example of this. Their research proved that 70% of people watch the matches alone, and 65% of people were using their phones while doing so. And so, using twitter, they called a new former footballer every game and made it as if the fans were watching the match alongside them. This included interactions such as asking questions and looking at the live reactions of these players as they watched the action unfold. But the idea was to go beyond making it a passive exercise. So, they went beyond simple watch-alongs to bring in more stars in the latter stages and have them give real time insights in the game, making it more like a show.
Formula E took their Fan Engagement to another level by roping in the fans to directly affect the outcome of a race. They have done so by something they call FANBOOST. Through this, Formula E gives its fans the chance to vote for their favourite drivers. The five highest voted for drivers can use this boost in certain designated zones during the second half of a race to their advantage.
The Role of The Individual
It may not be so on the field, but when it comes to fan engagement, the individual is just as important as the team. Now, fans not just connect with the ups and downs of a team, but as a result of social media, also to those of a player. They are able to connect with the players on a personal level by following every aspect of their lives online. This means that the teams can no longer look at their players as just that. Connecting with the fans is as much a part of a player's job description as scoring a goal or hitting a six. Since the team itself is not a living being, it cannot build a connection with a fan the way that a player can. And once fans are invested in the success of a player, they automatically become invested in the success of the team. And from a player's point of view, this is even more important, because this connection is something that they can carry wherever they go. A fan may not support the team a player has moved to, but they might still want them to succeed or at least want to watch them play. This might engage with a team that the fan would not normally engage with. More so with fans that are not fanatics of a particular team, but watch the sport sporadically.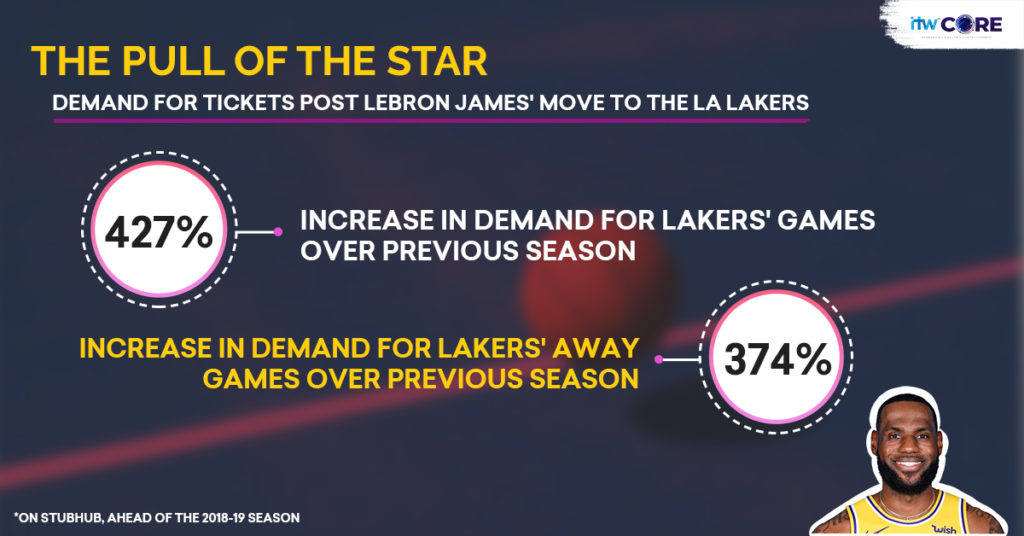 To illustrate this point, we take the example of LeBron James' move to the LA Lakers from the Cleveland Cavaliers. The demand for the Lakers' games went up 427% on StubHub for the 2018-19 season. This could be somewhat expected. However, even the demand for their games on the road went up by 374%, implying that people are buying tickets just to see LeBron play. In fact, based on demand for tickets, Lakers take up 7 of the top 10 spots, 4 of which are away games There is however, also a downside to this. Subsequently, when the TV Ratings were released, they were down. However, the Eastern Conference, which earlier featured LeBron, saw a more significant drop in their ratings than the Western Conference, where he now plays. This means that teams merely need to manage their risk better and project the limelight on more of their players and not just on one at the expense of all the others. The fact is that teams are powerless to stop this trend, so why not just embrace it instead?
Make the Experience Memorable
To many fans, engaging with the sport is only worth it if the experience is worth remembering. At the end of the day, sport is entertainment and it is hard to be entertained when there are various factors getting in the way of that experience. For example, a half empty stadium is a bit of a let-down. To improve on the experience of a full stadium display, teams have created vibrant tifo displays showcasing their clubs' vibrant colours. Here, we see Borussia Dortmund unveiling one such tifo at their stadium. This sort of atmosphere is crucial in creating an emotional bond between the club and the fan.
Further, stadiums could enable their fans to use facilities such as WiFi and an app with real time stats trackers. With the internet at hand, fans could become a source of marketing for the teams. Fans also need to feel cared for. Teams should reward devoted fans with a loyalty program that can be fully appreciative of a fan's efforts. There are many such simple small things that can be improved upon to improve fan experience, both in the stadium and at home. A great example of an innovation in this regard was done by the Tampa Bay Lightning. In order to make their fans wear their colours, they gave season-ticket holders Jerseys that came with an embedded RFID chip that enabled the wearer to get 25% discount on club merchandise, foods and drinks. This helped increase sales of their season tickets and at the same time improve the experience of the fans, both in the stadium and at home, wherever they may be.
Building an International Brand
In order for teams to build international brands, it is imperative that the respective sports leagues have to be international brands first. This is the case for leagues like the English Premier League, La Liga, IPL, Champions League etc. These brands have invested time and money to engage the fans on the ground. In fact, both UEFA and the Premier League have held fan events in various countries, with UEFA bringing Luis Figo and the Premier League bringing Robbie Fowler and Peter Schmeichel to India. These events serve as an acknowledgement and appreciation of the fans' continued support.
American leagues have even gone as far as to organize matches in other countries to expand their audience beyond the USA. In the last year, the NFL held competitive matches in London and Mexico City, the NBA in London, Paris and Mexico City and the MLB in London, Mexico City and Tokyo. While it might be difficult for other leagues to organize such games for various logistical reasons, they can do so by organizing pre-season games abroad, something the American leagues have also done with the NBA notably bringing games to India. The Premier League has done this in the form of the Premier League Asia Cup, but it would not be surprising if more such leagues were to follow. At the moment, individual teams do travel abroad for International friendlies, but this can only help those clubs that already have big international standing.
The Future of Engagement
Thus, the underlying principle driving fan engagement is quite simple: How can we make this more enjoyable? As technology advances, the answer to this question becomes decidedly more complex. Take the advent of Augmented and Virtual Reality for example. They are making waves in the technology world. It was only a matter of time then before this experience was translated to sports. Plans for this have varied from replicating a simple stadium experience to eventually creating extra features such as looking at player profiles, rewind games in real time (and in 3D) and voice text with other fans. The avenues are endless to try and not just bring the stadium experience home, but to also go beyond it.
While this might seem like something for the future, the NBA has already started looking to it. They have struck up a partnership with Microsoft to enhance the fan experience. The idea behind this project is to make the fan experience more personalized and immersive. They have already started doing this with the Together Mode which uses AI technology to enhance the fan experience. What future projects will exactly look like, we cannot yet tell, but such collaborations between the sports and the tech arenas are bound to happen, as they have in most other fields. Let there be no doubt then, the future for fans looks bright though quite paradoxically, it also looks blurry as we do not know what other advancement the future might bring.