With IPL 13 in the books, ITW Core's Devanshu Bhatt takes a look at the marketing trends and insights that emerged from the edition in the UAE.
This IPL season was another record-breaking year in terms of viewers but more importantly, it brought what every IPL season brings – Innovation. This continuous need for those involved to reinvent themselves is what drives them to even better things whether they be brands, broadcasters or player. To illustrate this point, in recent years, Swiggy has come up with fun, topical ads every time and yet they seem to hit home with their simplicity. In that regard, this year was no different. They drove home their point about delivery and combined it with the context of both the IPL and the pandemic. One might find this not to be impressive, but when bar for expectations is set so high, it becomes increasingly difficult to deliver. But while Swiggy might be veterans to the IPL so to speak, many of the brands involved this year weren't so. CRED and Unacademy, 2 of the bigger official partners alongside the title sponsors Dream11 were both first timers. And while Dream 11 have been the official fantasy gaming partners earlier, they also found themselves in a relatively unfamiliar position of being the title sponsors. On top of all that, the matches were played behind closed doors in a different country. And with so many new developments also come some new talking points worth examining.
Fan Engagement:
Fan Engagement is something that is harped on about quite a lot in sports marketing and broadcasting circles and with good reason. Every activity has a next step and the next one for sports viewership is to transform it from a passive activity to an active one. In that sense, Hotstar, the digital streaming service for the IPL has made some important steps ahead. In addition to features such as predicting the next ball in their interactive Watch'N Play social feed, it also added features for fans to upload selfies called 'Hotshots' or videos called 'Duets' which lets fans recreate some of their favourite IPL moments, some of which were later broadcast. From the Play-Offs onwards, it took a step-up to include an option to watch the match along with friends via video call. It also has the option of syncing streams so that all the friends don't miss any part of the streaming due to a lag. Owing to the pandemic, we also saw a virtual guest box instead of the regular one, with fans from each of the official IPL partner brands.
Explosion of Fantasy Sports:
While fantasy sports are a way to enjoy competing with your friends, they serve a very important purpose for any sporting tournament. They ensure that you are invested in the outcomes of every match, no matter what team you support. And while Dream11 might have caught the eye of everyone because of their position as the central sponsor, many other brands such as My11 Circle, Gamezy, MPL etc. were involved as well. The number of ads featuring fantasy sports was also visibly higher for this reason.
Advertising and Marketing:
Apart from its title sponsorship, Dream11 also drew a lot of attention for its advertisements. They even found themselves becoming a meme template for their line 'Ye main kar leta hoon, tab tak aap Dream11 pe jaa ke team baniye'. And in many ways, this is better than they could have hoped for. When something becomes a meme, they Internet basically markets you for free.
CRED is another brand that found a lot of attention for their campaign. Not only did they think outside the box with their ads, they also made the most of their power play sponsorship by rewarding users for using their app during that time. Despite being newcomers, they maximized their reach in a short interval by combining advertising, on-ground activations, and other offers. This is a template that future brands might want to follow as interest in the brand (as measured by metrics such as search volume etc.) sky-rocketed during the IPL.
Unacademy followed a slightly different path, but one that suited them and their core message far more. They are an education brand, and they wanted to follow the tone that went with it. Thus, their Ask the Expert or Unacademy Cracking Sixes activations which correspond to learning from the best and cracking competitive exams show how a brand can integrate any activation to perfectly fill its own core messages. Their recent ad campaign integrating the IPL and what we learnt from it was the logical next step in their approach. It portrays learning as the creative fun and exciting process it can be, and in the end, it combines this fun with tangible results as MS Dhoni completes an incredible catch with the words Let's Crack It appearing on screen immediately after. This is precisely their own promise as an institution of learning, and this ad is nothing if not a rallying cry to students. This has meant that the video has garnered almost 3.9 million views on YouTube and countless others on other social media platforms. And these views have been followed by many comments commending their creativity, reflecting well on them as an organization, one that see everything as an opportunity to learn.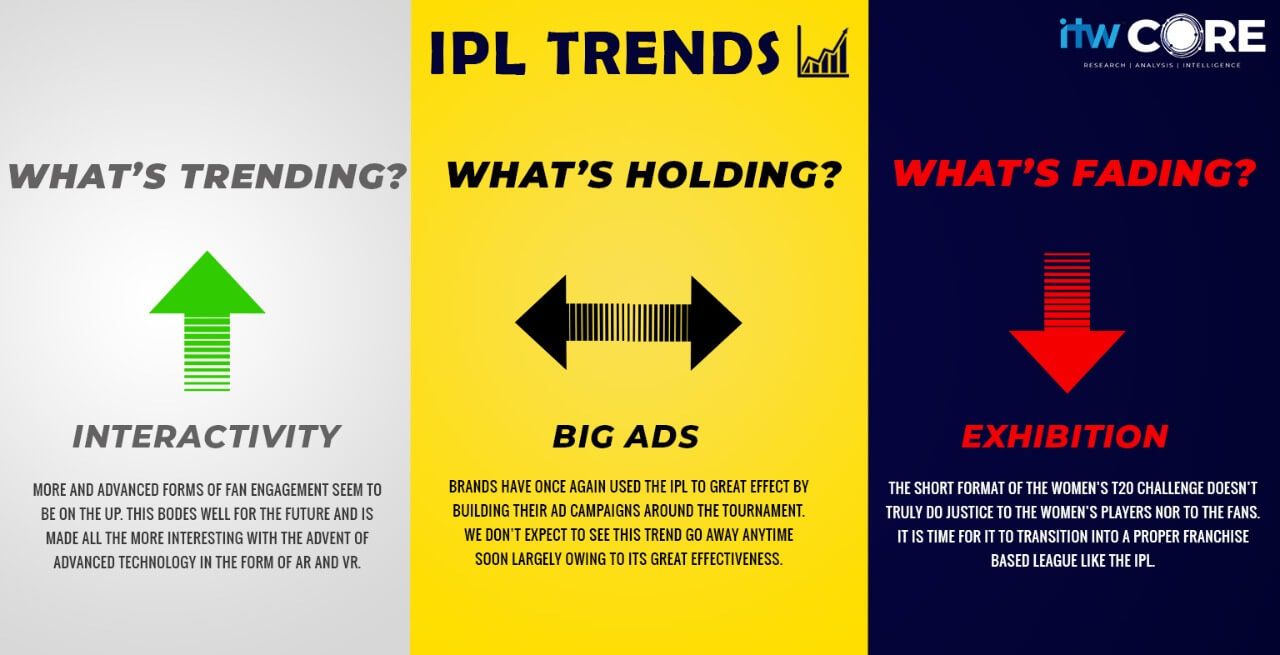 Women's Cricket
Granted this point isn't something the IPL taught us directly. But the Women's T20 Challenge happened in the last week of the IPL and it is also an important talking point. And as Joy Bhattacharya and Lisa Sthalekar point out in the Cricbuzz Live show alongside Gaurav Kapoor, it is a point that must be addressed fast. The Indian Women's Cricket Team has in recent times really impressed with their performances reaching 2 finals in the last 4 years. However, these on-field performances are not truly getting the attention they merit. There has been so much buzz around their cricket but hardly anyone seems to want to capitalize on it. Both Australia and England have their T20 cricket leagues that are fully fledged. On top of that they are looking to develop domestic cricket for women in their country. What this will do is enable them to create a much bigger pool of players from which to choose, as well as making sure that they can pursue cricket full-time, giving them more time to focus on their game, fitness and nutrition. This will only improve the quality of their game and give the fans more entertainment.
Mr. Bhattacharya points out that India was a pioneer in franchise-based cricket with the IPL. With the women's leagues in Australia and England already thriving, India might be left behind in this regard. A Women's IPL is thus the need of the hour.
Moreover, women's cricket is not the same as men's cricket and needs to be packaged thusly. It needs to be given dedicated time and energy it demands and then it can potentially engage many of the massive brands that exclusively sell women's products. As Mr. Bhattacharya who has worked with both sports franchises and leagues in the past pointed out, "I can promise you, sitting here today, you will (easily) get bids for 6 franchises from really good places." And perhaps we will, but not without the effort and dedication it requires, especially from the BCCI. Because when they do put their resources to it, there can be no doubt, they can make the WIPL the best just as they have done with the IPL.