How the IPL became a TV juggernaut is not an accident. ITW Core's Vidushi Bhandari looks ahead to its 2020 edition and how, amidst a pandemic, it gears to push the viewership benchmark even higher.
In a country consisting of 1.3 billion people and 800+ channels, the competition to attract viewership remains arduous. But the one thing that unites the nation, no matter which demographic they belong to or which dialect they speak, is sports; particularly cricket. This is perhaps the reason why cricket draws 93% of sports viewers in India.
The Indian Premier League (IPL) is the biggest cricketing festival in the country. Now onto its 13th edition, IPL viewership continues to enjoy growth year on year, pointing to the fact that it remains a dynamic and much sought-after property on TV, so much so that at one point Star Sports was paying more in broadcasting rights for the IPL than it was paying for India's international matches.
Top draw TV
Live broadcasting has been the heart of sports viewership for decades. The live nature of sports TV is compelling and gives audiences the feel that they are actually in the stadium rooting for their favourite team. The IPL has one of the fastest growing audiences in the country, with its viewership increasing by 63.8% over the past 4 years. In comparison, the GEC viewership increased by only 28%. Such astounding numbers can consensually be attributed to the fans' love for their beloved teams, the appetite for high quality cricket, the presence of some of the most revered names in Indian and world cricket and the tournament being perceived as the biggest sporting fiesta, among other things.
However, some factors such as the impact of on field performances on the viewership numbers has been a long debated one. Multiple reports over the years have suggested that viewership numbers of sports teams move closely with their on-field performances, irrespective of team loyalties. Successful teams tend to get higher support from the audience because of the sheer quality of sport displayed, thereby garnering higher viewership numbers. The latest data from IPL team franchises seems to suggest so too.
For IPL 2019, when deviation from average viewership for the year (used as a proxy for change in viewership) is mapped against the change in individual team position in the league table (used as a proxy for change in on-field performances), it is seen that increases or decreases in viewership for the year go fairly hand in hand with on-field team performances. This is the case for 6 out of the 8 IPL teams. The remaining two teams, namely KKR and RCB who slipped down the points table as compared to their positions in 2018, only had slightly higher than average viewership numbers for 2019. Therefore, the data of viewership numbers seem to roughly go in tandem with on-field performances.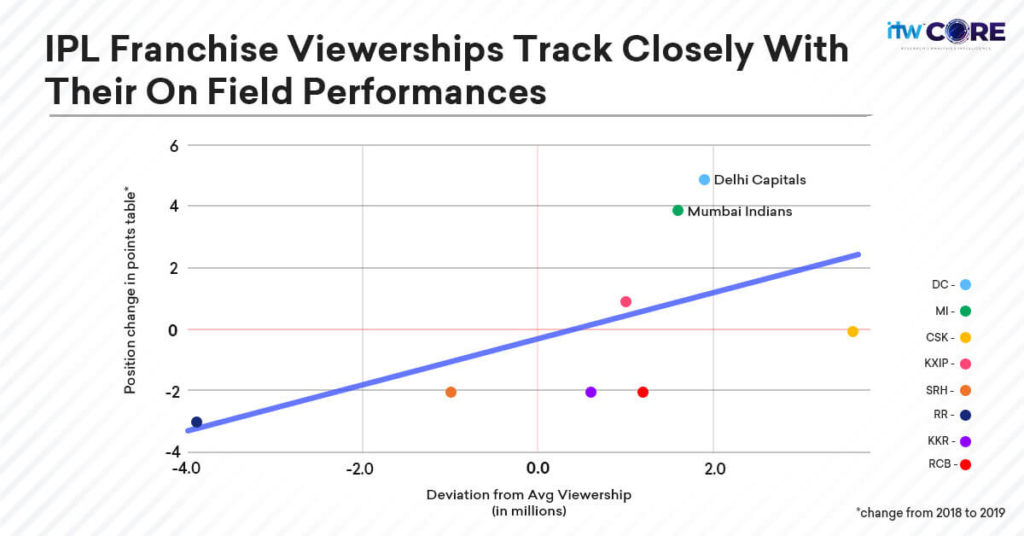 This can be especially true for tournaments such as the IPL. The format of the tournament, which lasts for just under two months is such that every team plays about 2-3 matches each week, and there is at least one game scheduled every day of the week. In such a framework, where there is a surfeit of games being played in 7-8 weeks, viewers are seemingly spoiled for choice. There is no paucity of live action, with sometimes even two games being scheduled in one day. So, regional and player loyalties aside, it makes sense for the audience to prefer high quality content.
However, this is not to say that on-field performance is the only driving factor of increased viewership. Case in point: Sunrisers Hyderabad. The viewership of the franchise which increased by just under 34% was one of the highest increases in viewership from the previous edition. This comes at the backdrop of a two position drop in the league table. This means that there are various other factors at play here, which the franchises and marketers need to be apprised of. For instance, in spite of the team's poorer performance last season, they managed to significantly increase the overall value of the franchise as well as its contribution to the IPL ecosystem, which could have led to its higher audience attainment. The brand value of SRH increased from 462 cr. in 2018 to 483 cr. in 2019, with the team contributing a healthy 11.2% to the overall IPL ecosystem.
Multiplying Screen Time
In today's day and age, where an ever changing landscape of sport is being increasingly driven by social media, most teams worldwide use facebook, instagram and twitter as a platform to market themselves and stay in touch with their fans. These channels often provide insightful supplemental content such as interviews with players, behind the scenes clips, snippets from player practices, etc to keep fans engaged and help build excitement and anticipation. This too, leads to a higher interest in the team and its members, thereby increasing viewership. Other factors such as continual increase in penetration of TV and internet across the country, presence of deity-like star players and the 'big-carnival' hype of the IPL also cannot be discounted. The fact that this multicultural, multi-lingual tournament, uniting players across boundaries, takes place once a year for just 2 months also does not hurt. In fact, it helps build up exhilaration, wherein cricket ardent viewers all over the country tune in to watch their favourite sport.
The said anticipation has never been higher, with the 13th edition of the IPL just around the corner. The tournament, which at one point looked uncertain of even taking place this year, has been building up excitement ever since it was given the green light by organisers. Sourav Ganguly, now in his role as the president of BCCI, recently said that he was expecting the highest TV ratings for IPL this season. Uday Shankar, CEO of Star India and the man working to bring the Indian Premier League's 13th edition to viewers in India and across the world, too, said that IPL 13 can set global benchmarks. Franchises, marketers and sponsors alike, are predicting a tournament like never before.
Given the current circumstances across the world, this prediction does not seem to be surprising. The absence of live cricket matches is going to be a major contributor to the viewership of IPL this year. The last time Indian fans witnessed their beloved players on the field was way back in February, before the world was upended by the pandemic, when India toured New Zealand. This means that there has been an absence of live cricketing action for audiences for over 7 months. As the action resumes in the most popular sport in the country, with various new protocols in place, one of them being the spectrely silent stadiums, fans look to satisfy their pent up demand through their TV screens. Last season, 462 million viewers tuned in to watch the IPL. This season, it is expected that this number will increase by at least 25%.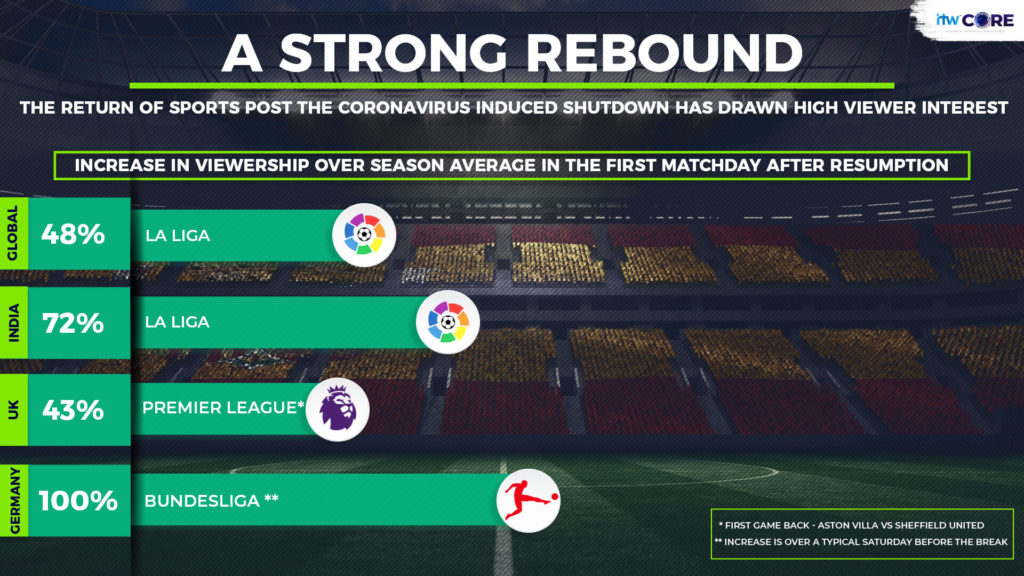 A festive fervour
There has been a steady rise of indigenous, Indian and international viewership of other sports and leagues worldwide, post resumption and the same is expected to be replicated for the IPL as well. Additionally, there has been a severe drought in content in these past few months, and since this is the first time new content will be broadcast on screen, it might get additional first time viewers.
Furthermore, the timing of IPL is such that it is perfectly aligned with the biggest festival season across India, which too is expected to contribute to the viewership. The fact that IPL is coinciding with Diwali has both the sponsors and viewers upbeat. Nitin Bawankule, president, ad sales, Star & Disney India said that the tournament coincides with the festive season and hence, has seen significant interest from brands across various categories to leverage the scale, reach and high visibility proposition that IPL will deliver during this time. The platform has on boarded 13 sponsors already, which points to the rising excitement of the tournament.
There had been an exponential rise in digital viewership of the IPL last year. According to official numbers, IPL viewership on Hotstar increased by 74%. This increase was aided by the introduction of new interactive features on the platform which allowed users to share emojis, play while watching and even order food with a partner brand. There was a 1.5 times increase in time spent on the platform by viewers who used these features as compared to the fans who didn't. Looking to bank on this rising trend, Hotstar has now added additional features to the interactive Watch'N Play social feed as well as other new features like 'Hotshots' selfies, 'Duets' videos, etc, which they are now trying to monetise by creating avenues for interactive advertising. It makes even more sense in a year when smartphone and digital adoption across semi urban and rural areas has seen a surge due to the lockdown induced by the novel coronavirus.
With the IPL all set to start with a clash of the titans – defending champions Mumbai Indians take on three time winners Chennai Super Kings – in the opening game, audiences are likely to not just flock to their screens in large numbers but also be invested and engaged, as we all continue to adapt to these new times.