While the world's biggest sporting icon looks for a new job, his old employer has all sorts of problems to sort out. The commercial juggernaut that was Barcelona will be taking quite a hit. ITW Core's Devanshu Bhatt examines the implications of this seismic sporting shift.
Lionel Messi is now the world's most eligible footballer. After he was denied the chance to leave last summer, the tables have turned this time around. With La Liga's imposed salary cap, Barcelona can no longer afford to keep Messi at the club, even at 50% of his old wages, effectively forcing him to leave. As we said last year, the emergence of such a situation would not really come as a shock. However, such is the magnitude of the player, the move has inevitably sent shockwaves throughout the footballing world.
For Barcelona, there is the obvious on-field implication of this move – the departure of arguably the best player in the world makes the team weaker. But on field performances are critical in sustaining off-field commercial success. And this is not just about the potential prize money a team can earn from doing well. And as we have explored before, good on-field performances can attract more supporters and a higher viewership. Worse, Messi's departure means Barcelona also lose the image rights and one of their bestselling merchandise items – the Messi 10 shirt clocks sales of 2 million units a year. Such a situation has already arisen at Aston Villa where, upon the departure of their star Jack Grealish, the club offered to exchange the shirts sold this season with his name printed on the back for newer one.
The long term implications are even more dire. Barcelona will likely lose sponsors or see lower valuation of deals – with both sponsors and broadcasters – as compared to when the Argentine talisman was at the club. The club's balance sheet is a mess (losses of €487 million were reported for the last year).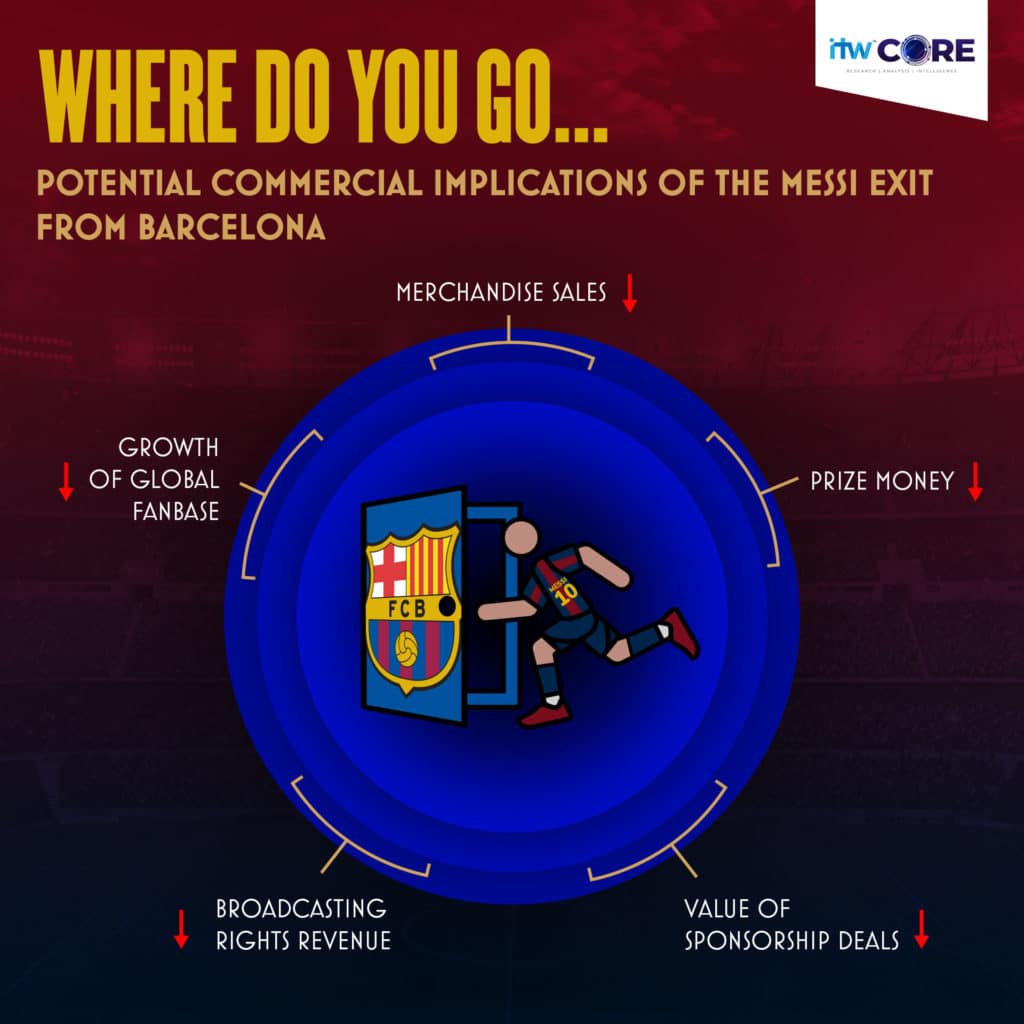 It's also bad news for those who only recently acquired La Liga broadcast rights such as ESPN in the US and MTV in India having done so keeping the brand power of Messi in mind. They will feel like they have overpaid as they look set to take a hit on advertising revenue.
However, Messi's departure is a zero sum game. If rumours are to be believed, Messi is headed to PSG in France's Ligue 1. While there is no official news yet, we can speculate on the implications of such a move. For one, PSG already has highly paid stars in the form of Neymar, Mbappe and Ramos amongst others. This means that if they are to obey Financial Fair Play regulations, they have to adhere to a spending limit of their own, no matter how wealthy their owners are. But as mentioned before, Messi's brand power is enormous. This means that in order to facilitate his arrival, PSG can renegotiate their sponsorships to increase their revenue and thus bring Messi to the league.
This idea is not far-fetched and it has precedent. When Ronaldo went to Juventus from Real Madrid, Adidas paid the club a €15 million bonus within 6 months owing to good commercial performance. They also renewed their partnership with the club 2 years before the original agreement was due to expire. The new partnership was for a period of 8 years with a renegotiated fee that was double their previous one. This makes sense when you consider that Ronaldo is exclusively signed to Nike till 2026 and sponsoring Juventus lets them get their foot in the door. In fact, since Ronaldo has signed for Juventus, they have renewed deals with multiple principal sponsors including Jeep and Allianz, both for significantly higher amounts and before they were actually due to expire.
For PSG then, such a reshuffle is far from impossible. Similar factors are at play. For example, Messi is contracted to Adidas and PSG play with a Nike shirt. If La Liga is set to lose commercial revenue, Ligue 1 will trend the opposite way. Much like Ronaldo's move to Juventus and the subsequent growth of Serie A, Messi will bring a lot of commercial growth to Ligue 1. Currently undergoing a financial crisis, at the heart of which was a failed TV deal, a potential renegotiation could bring much needed relief to the other clubs who have had to sell a lot of their stars in order to survive.
No matter where Messi goes, his aura and magic will follow, but inevitably, so will the money.