From the era of placing player cards in tobacco boxes in the 1920s to the current days of digital and personalized merchandising, ITW Core's Yashodhan Nakhare discusses the developments in the world of merchandising and three strategies that organisations have adopted to promote their products.
Sporting allegiances among fans transcend mere support, they are a profound connection to the essence of the game; almost every sports fan has donned the colours of their favourite team in the form of a shirt, hat, scarf or even a wrist band to cheer them on. As this feeling continues to surge, so does the thriving market for sports merchandise, serving as a means of pride and identity. Teams and athletes alike have recognized the potential that merchandising holds, not only as a means of revenue but also as a channel to deepen their relationship with fans.
We have come a long way from mass produced jerseys and scarves being the only items of merch being sold by sports teams. In the digital age, where technology and social media see day-to-day advancements, organizations are honing their innovative edge to enhance their merchandising strategies. Fanatics, an American manufacturer and retailer of licensed sportswear, has emerged as a trailblazer in this arena. Matt Madrigal, Chief Technical Officer at Fanatics, goes as far as to describe the company as a tech platform enterprise. Recognizing that sports fans always have their mobile devices within arm's reach, Fanatics embraced technology and e-commerce as channels to promote their products. Today, over 50% of Fanatics' sales occur on mobile platforms, where they have offered instant customisation.
Meanwhile, German sportswear giant Adidas, who became the official kit sponsor of the Indian cricket team earlier this year, ventured into the realm of Instant Commerce. They entered into partnerships with rapid delivery platforms such as BlinkIt, Swiggy, and Big Basket to promote sales of the Indian cricket jersey. This strategic move catapulted the Three Stripes brand to the forefront, with fans being able to acquire the coveted jersey in as little as 12 minutes. The ICC Men's Cricket World Cup 2023 is a testament to the working strategy Adidas has deployed in India. Despite the persisting issue of counterfeit merchandise, Adidas has made significant inroads into the market by offering the jersey at a price of Rs 999/-. While they have nailed the pricing of the jersey, their decision to leverage other eCommerce platforms has led to majority of the fans donning the Three Stripes India jersey instead of the 'unofficial' or knockoff jerseys.
In this fiercely competitive landscape, first-mover advantage is passe; it is now about fast-mover advantage. Organizations continually outdo each other by harnessing their creativity and responding swiftly to media interactions and on-field moments. A second key merchandising strategy revolves around Instant Connections.
A remarkable case is the collaboration between convenience store chain 7-Eleven and NFL wide receiver Ja'Marr Chase. After a lackluster performance in week 4 of the NFL season, Chase vented his frustration, exclaiming, "I'm open. I'm always f—ing open." This sentiment resonated with 7-Eleven, known for its 'We're always open' tagline, a nod to its 24/7 operations. An immediate partnership was forged, featuring a unique 7-Eleven logo necklace. Chase, donning the necklace, achieved a franchise record for the most receptions with 15, including three touchdowns. This partnership not only garnered great media and fan attention but Chase also suggested a long-term association with the convenience store chain to manufacture more such goodies.
Merchandise capturing specific moments holds a special place in the hearts of sports fans. Super Bowl rings and miniature World Cup trophies are just some of the treasured mementos that allow fans to relive their favorite sporting memories.
AC Milan's marketing team seized a similar golden opportunity when striker Olivier Giroud stepped in as goalkeeper during a Serie A fixture against Genoa. The video of Giroud's remarkable saves went viral on social media, prompting AC Milan to release a limited number of goalkeeper jerseys bearing Giroud's name and number. The jerseys were quickly snapped up, forcing the club to release additional units to cater to the increasing demand. This case exemplifies the art of capitalizing on a moment and leveraging the hype generated on social media.
While these moments indeed shape memorable sports narratives, it is equally about the vibrant communities that add depth to the fan experience. The final strategy we delve into is the concept of Instant Communities and Crossovers.

When global superstar Taylor Swift graced an NFL game between the Kansas City Chiefs and Chicago Bears to support her rumored boyfriend, Travis Kelce, her fans, known as 'Swifties,' went into a frenzy. Brands recognized this unique crossover between Swift's fan base and NFL enthusiasts as an opportunity to create merchandise, including t-shirts, mugs, and Kansas City Chiefs jerseys with Swift's name on the back. Notably, the company responsible for Kelce's game-day attire against Chicago Bears, cleverly renamed it from 'Bedroom Painting' to '1989 Bedroom Painting,' a nod to Swift's re-recorded album, '1989 (Taylor's Version).' This move demonstrated a savvy strategy to tap into a vast and global community like the Swifties.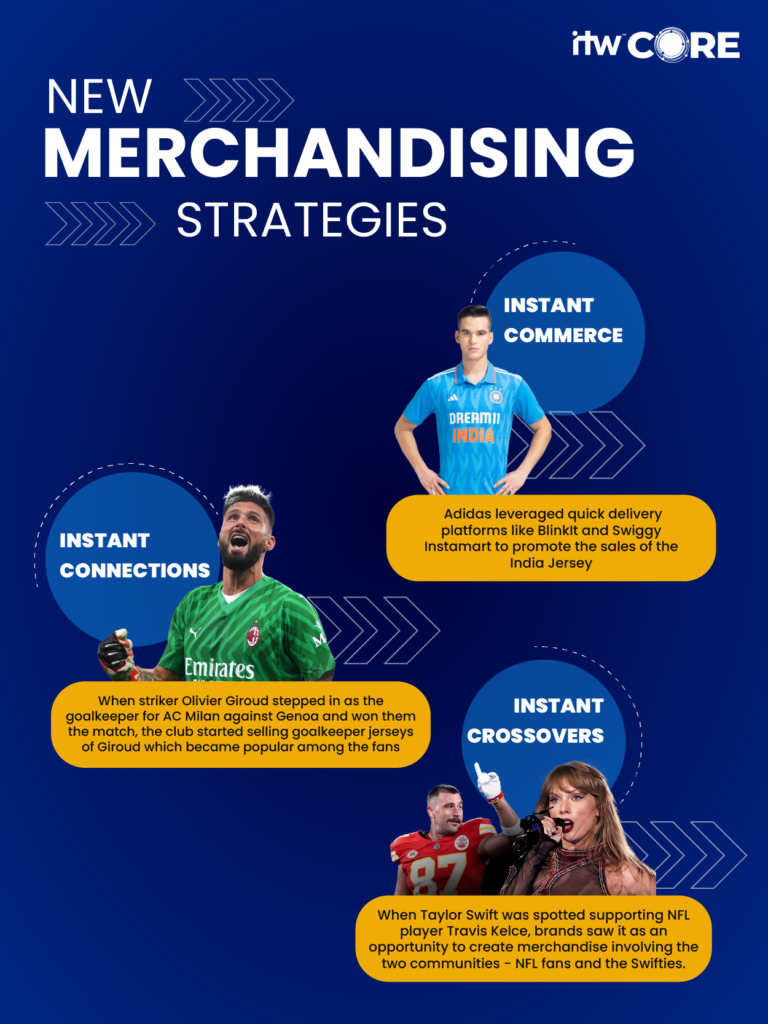 From placing player cards in tobacco boxes in the 1920s to the current era of digital and personalized strategies, the world of sports merchandise has traversed an extraordinary path. While physical mass production remains a cornerstone, mounting competition and the discerning eye of social media-savvy fans have spurred companies to reshape their approach. Mass customization has taken center stage in merchandising strategies, and its growth is set to continue, bolstered by technological advancements. As the sports merchandise industry continually evolves, one thing remains constant: the unwavering passion of fans, fueling a multi-billion-dollar industry built on love for the game.