Every January transfer window, there is a clamour to sign the best available "free" players. But are they really "free"? ITW Core's Devanshu Bhatt finds out why free transfers actually come at a price.
The "Free" Transfer
The January transfer window is generally not quite the same in intensity as the Summer window. Teams are generally looking at the January window to replace injured players or for quick fixes in certain positions. It is rare to see big deals go through in the January window as teams are generally looking to retain their players till the season ends. However, every January, we do see a different but interesting phenomenon. Since the infamous Bosman ruling, players entering the final 6 months of their contract are free to negotiate with other clubs and join them in the summer for free. Some join other clubs for cut price deals, lest their current club lose him for nothing in 6 months. In a market dominated by multi-million-pound transfer fees, you could be forgiven for thinking that this is the ultimate coup. And while it can be, this is not always the case.
The Upper Hand
First of all, if a player has an expired or expiring contract, he holds all the bargaining power. When a player is in demand and also free, his potential options go up because the fee or the player's club is no longer a hurdle. And their agents know that. So do the football clubs. From the agent's point of a view, their client might be happy in the club both in a professional and personal capacity. Leaving might disrupt that balance. From the club's perspective, they might have to spend millions trying to replace the player. Especially when other clubs know they are desperate to find a replacement. So, it might seem like it is in both parties' interests to come to an agreement. But when a player has less than 6 months remaining on his contract, it is inherently a sign of problems. Either the player is thinking of leaving or the club hasn't met the player's contract demands.
When we arrive at this stage, while there might not be a transfer fee, in lieu of this, the player can demand a very high wage. Something significantly higher than he would have been paid under normal circumstances. In addition, both the agent and the player possibly receive hefty bonus payments. So, the transfer is far from free even at this point. Even a £100k increase in weekly wages amounts to £5.2m a year increase in wages. This amounts to over 15m for a 3-year deal. One can then argue that this cost might still be lower than if the club had bought him outright. This is a fair argument, but only when looked at in isolation.
The True Costs
In reality, each club has a system and a style of play. And based on these, different needs. Going to the wrong club can make a good player also look mediocre. There have been plenty of examples of such transfers including Phillipe Coutinho, Antoine Griezmann, Paul Pogba to name some. To prevent such issues, each club has a scouting department that identifies necessary targets. In addition, players that have less than 6 months remaining on their contracts are generally those in their prime or past it. They are usually looking to get their final big pay rise or final career move. This means they are pretty inflexible in terms of altering their playing style or attributes. A good example of this is when Inter Milan signed Christian Eriksen for a cut price deal last January, only to realize he isn't a natural fit in their team and put him back on the market 12 months later this January.
When a free transfer becomes available, clubs get tempted to go for the cheap alternative instead of going for the players the club needs more. While the free player can be one that they need, it is a problem when this isn't the case. For a player that does not fit in, the club gets stuck with the player. The high wage of the player means that he has no incentive to leave the club before his contract ends, unless a similar offer comes in. This proves to be a particularly challenging issue. Nobody would be willing to pay high wages for a player that is struggling. Thus, the club cannot bring in anyone new, nor can they get the best out of the players at their disposal.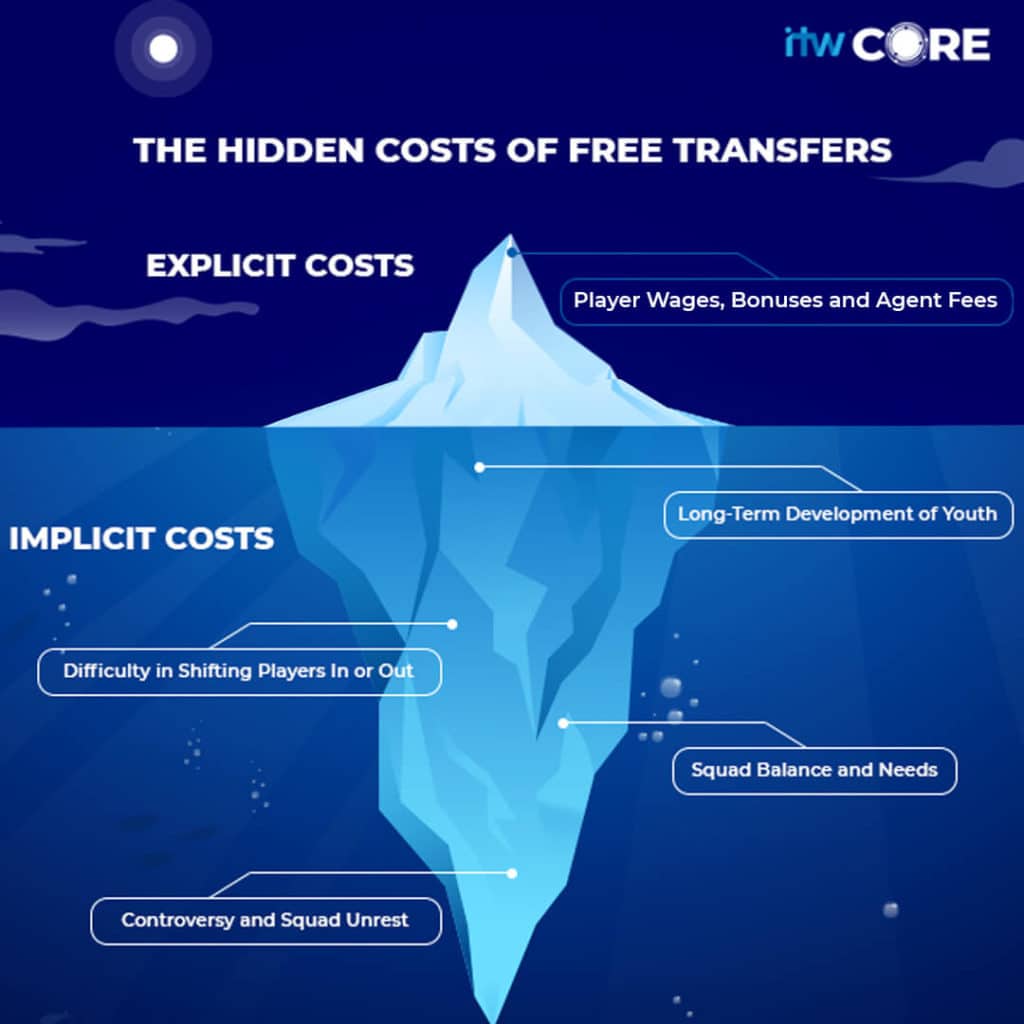 A Price Worth Paying?
A good example of a bad transfer is that of Alexis Sanchez. In order to lure the 29-year-old to Manchester United before he negotiated a contract with other clubs, he was offered £560k a week including bonuses. While this was not strictly a free transfer, the mechanics underlying were the same. The possibility of signing a player of his calibre before any other club could make them grossly overpay for a player that was past his prime. By the time he finally left Manchester, he had cost the club £29k per touch and £12m per goal totalling to £60m. Another club could very well have ended up in the same position had they signed him for free 6 months later. Perhaps this is an extreme example but it illustrates exactly how badly things can go with an ill-judged move. In the end, Man Utd paid Sanchez £9m to terminate his contract. Sanchez now earns a comparatively lower £130,000 per week at Inter Milan. Despite paying Sanchez £9m, United saved £41m as Sanzhez would have earned £50m had he seen through his contract for the 2 remaining years.
Another example of an ill-judged move was when Arsenal paid an astronomical sum to keep Mesut Özil, another 29-year-old, at the club. Again, not strictly a free transfer, but Arsenal gave into Özil's demands, paying him a reported £350k a week. Needless to say, this move did not work out either. So much so that Arsenal did not even register him in their squad this season before letting him leave for free this January. That is not to say free transfers don't work out. Robert Lewandowski, Andrea Pirlo, Sol Campbell, Michael Ballack have all moved for free and managed to do incredibly well. The idea here is that these transfers need to be well thought out. In the current environment, with the coronavirus hitting clubs hard, they need to be careful not to get carried away by the temptation of free transfers.
Arsenal fell into this trap in the summer. They signed Willian for free. He is 32 and signed a 3-year deal with Arsenal, earning £220k a week. He nearly stayed at his old club Chelsea but they refused to give him a long-term deal. Arsenal are now facing the consequences of not doing what Chelsea did. 6 months in, with disappointing performances, Arsenal have to pay his wages for 2 and a half more years. Those needing quick fixes should treat transfers that way, tying players to short term deals to avoid being stuck with the player, especially if he is an older one. Younger ones can adapt more freely and earn quite a lot less.
Ultimately, as the saying goes – there's no such thing as a free lunch. Everything will have a price, and some of it is not worth paying.