Worth a shot: Esports, its growth in India and why brands should take notice.
CGI technology. Special algorithms. These are not terms you'd usually associate with a horse race, but that's exactly how the first ever prime-time televised virtual Grand National was made possible, with the sport remaining suspended in the UK because of the COVID-19 pandemic. Esports is having a bit of a moment as outdoor sport remains suspended, but rather than look at it as a replacement for sporting action or a stop gap to tide over a strange situation, the time has come for brands to look at it as a complementary arena. Virtual horse races have been happening for a while now; the difference is this time they had a wide (and mainstream) audience.
By Hitesh Mangtani ITW CORE – ITW Consulting Pvt. Ltd.
The digital age and technological advancements are redefining the way various events are conducted & enjoyed. Our Research & Analytics vertical ITW Core discussed about the global sports industry moving towards extensive use of Technology Centric Sports Equipment (TCSE) in the article, SmartTech infusion may fuel a Sports Revolution.
"If it doesn't challenge you, it won't change you",

Mr. Fred DeVito
E-Sports – the world of competitive and organized video gaming (Willingham, 2020) – has emerged as some sort of an unbeatable champion in the International sporting arena in the recent past. Given the current situation the sports industry itself is in, the chance for a reinvention is ripe to open the jar of opportunities through innovation and, allow the industry to flourish with a few leaps & bounces, along the way.
Brands might actually be sleeping on a massive opportunity and an audience. Every sport, has to have its own 'dynamism' to be able to sustain in the market & compete against all odds, and it is time for people to feel the need of the hour. The Global E-Sports Market generated revenues to the tune of $950.6 Mn in 2019. It is expected to cross $1 Bn mark by 2020 with an YOY growth rate close to 16% & expected to have 600 Mn active viewers worldwide ("Global Esports Market Report 2020 – Strive Sponsorship, UK", 2020). Goldman Sachs predicts that total Esports monetization will become $3 Bn by 2022 while being able to reach out to 300+ Mn viewers globally.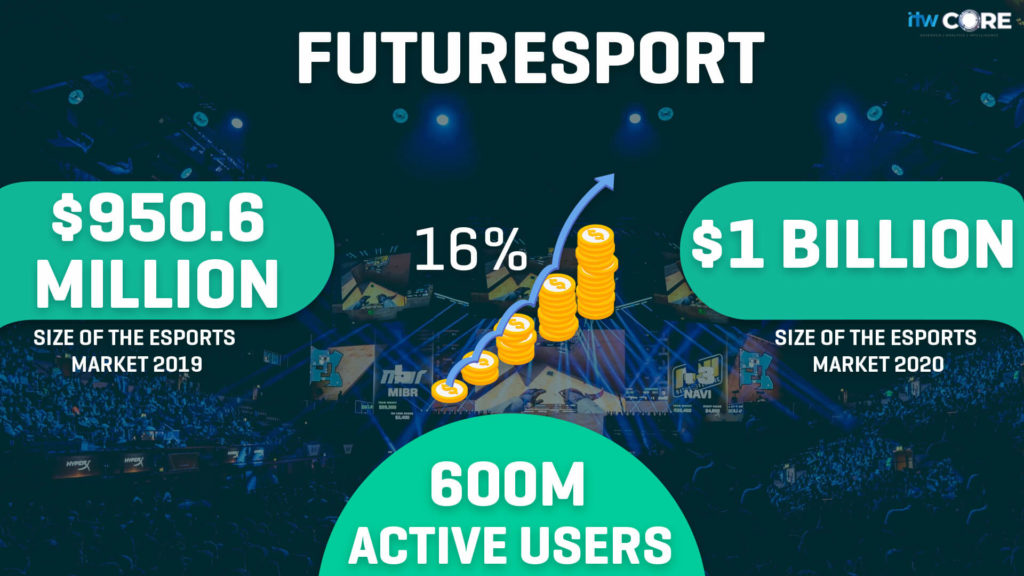 It's unlikely that post the pandemic, everything would be back to normal again. The truth is, someone works harder than others to introduce new ways of counter-punching the situation, like Formula One did. Professional players, fans & followers can now sit back and enjoy the e-version of racing or as they are calling it the "mobile racing", equivalent to what they would have been doing before the season starts & sometimes even minutes before the race, to just be in that zone. On March 22, NASCAR held a e-NASCAR race making its real drivers compete in a virtual simulation. The boundary between esports & the real world of sports seems, to be blurring & merging in these innovative ways. And that's where the treasure chest is.
"Change is inevitable, Growth is Optional"

Mr. John C. Maxwell
Monetization Opportunities:
Esports, at its highest levels, functions in a similar way as traditional sports events or leagues do. Capgemini Research Institute: Emerging Technologies in Sports 2019 report says that 69% of fans feel that the use of emerging technologies has enhanced their viewing experience – both inside and outside the stadium. Speaking of the love for esports, 35% of sports fans globally have watched an esports and 23% have played one.
India is the Asian Market Leader with 73% of watch esports events & 57% have played it. Twitch and YouTube are the primary distribution channels for live and recorded esports content in the global market.
The International Dota2 Championship in Aug 2017 had a prize pool of $25m+ giving-out scholarships to the video gamers representing their high school or college. In India, the prize money grew by 180% from INR 3.5 CR to around INR 10.7 CR. Try and look at eSports like any "normal sports event", the major chunk of its revenue comes from sponsorships, media rights, ticketing revenue, merchandise & advertising. According to the Goldman Sachs 2018 Report-The world of Games-Esports. the following revenues streams would be contributing extensively towards the growth of eSports by 2022, globally.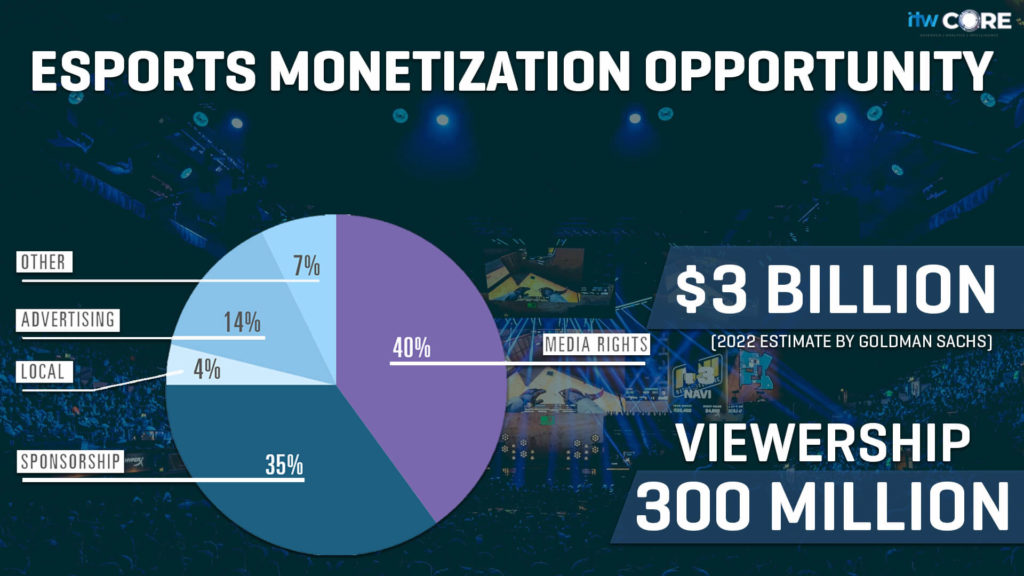 How can brands get involved?
According KPMG-Google 2017 Report: Online gaming in India, the Indian Online-Gaming Industry is expected to add, 250+ Mn gamers to become a INR 100 CR business opportunity by 2021, from INR 30 CR in 2018. To show their support we often hear of professional sports stadiums selling out for eSports tournaments, ticket sales or viewership does not necessarily equate to high revenues but are surely critical for overall financial success monitoring (Rodriguez, 2020).
The Indian eSports Market is getting bigger & bigger every day & by 2023 the industry could be worth INR 11,900 CR. Tech-brands are heavily investing in building robust infrastructure in fueling the growth rate across different regions. It is not just the online market which is witnessing the glory, offline-market is equally getting backed by the investors to create a breathing ground for players to be professional games in no-time (Indian eSports Market Size).
Fans are looking for multi-screen and interactive experiences. If we're able to provide some experiences in the stadiums, that's something that will drive further, the attendance to the stadium for our fans.
The esports events are nothing less than a jam-packed Wimbledon center court or a ICC Cricket World Cup Final, where fans need to experience it, to be able to connect with the sport. Mr. Emmanuelle Roger [Co-Founder & CEO – Immersiv] hit the nail on the head, as it is essential for brands to be able to tap these markets at the right-time, considering the type of opportunities lying ahead of us.
Also read our recent articles: SmartTech infusion may fuel a Sports Revolution & Counter-Punching Corona.