Every brand has a story. It gets told through its ads, its logo, and every other aspect of the brand. The key ingredient in any story is an emotional connect, and in a world increasingly tuning its emotions into sport, sponsorship can that bridge. Association with sports properties, is now a major differentiating factor which could affect consumer aspirations. The growth in sporting audiences is driving the global sports sponsorship market, which is expected to reach $49 billion by 2023 with the global sports market estimated to be ~614 billion by 2022 (5.9% CAGR), but an additional boost is the fact that there are so many different ways to get associated as a sponsor.
Sponsorship is also about building trust & sticking to building a long term narrative. Take Nike & Tiger Woods for example, who had been through thick and thin over the years & choose to be closely associated, as they believed in his achievements & his potential rise again after the personal controversy and loss of form. He did rise like a phoenix (Rishe, 2020). The deal started back in 1996 for a span of 5-years which, is reported to be $40 million, followed by an 8-year deal worth $20-$40 Million annually. In 2013, the contract was further extended & again in 2017 (Rishe, 2020).
In terms of brand exposure, according to Apex Marketing when Mr. Woods finally got his 15th major win, and won the 5th Masters at the 2019 Masters, the brand value that Nike received is estimated to be $22,540,000 (Shahid, 2020). The report also shares the estimated value for Monster Energy which is $958,333 for being featured on Wood's golf bag & Bridgestone made about $134,167 for being on Wood's golf ball, which was shown during close-up shots during the game (Thomas, 2020). Woods' revival had become as much the sportsman's story as it did the brands'.
Formula One as a whole thrives on sponsorship, which is essential for teams' Research & Development, and with a price of about $3.3 million on average, the last 15 years have netted to sport $30 billion (Sylt, 2020) in sponsorship. The value it commands stems from both the crazy viewership (in 2019 F1's Global TV Audience (cumulative) reached to about 1.922 Billion [highest since 2012] with a unique viewership close to 471 Million with Brazil, China, Germany, USA & Italy being the top-5 viewers-market. Poland & Middle Eastern regions witnessed the highest growth rates of +569.7% with 8.4 Million viewers and + 239.6% at 17.6 Million viewers respectively (Formula One viewership 2019) as well as the prestige of being part of the elite within an elite sport.
There are other ways to get your name out there too. A more permanent way to do it is stadium naming rights. In 2007, ANZ agreement became the biggest stadium naming rights deal ever seen in sports and entertainment history across Australia," said SAG MD & CEO, Ken Edwards. The deal of $4.5 Million annual sponsorship valued at $31.5 million over 7-years till 2014 (Australasian Leisure Management, 2020). Repucom-2013 Report ranked ANZ Stadium as the most valuable naming rights property of all major Australian stadia, with a total reach of 48.3 Million people (Long M, 2020). In 2019, New South Wales (NSW) government revealed its re-development plan for ANZ Stadium which would cost A$ 810 Million (Stadium Business, 2020). [Please see image Top Stadium Naming Rights in 2018]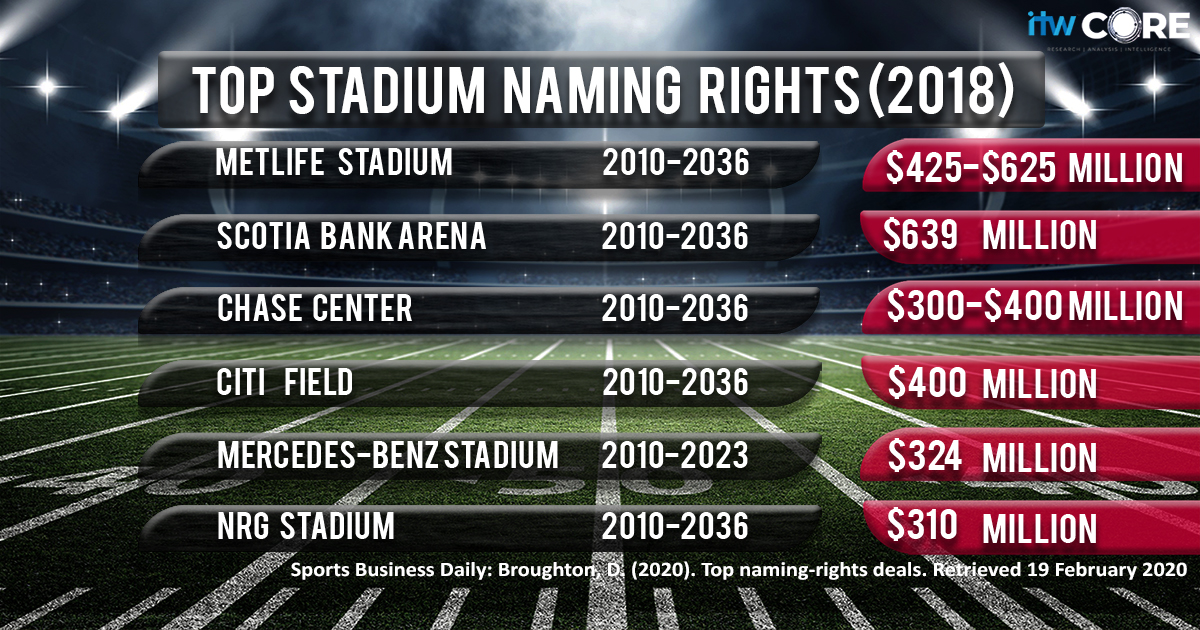 And then there is cricket and the Indian market. The Indian Sports Sponsorship market grew to ~1.4 billion in 2018 [₹7762 CR]. And within it, the most important concentration of market power lies on the Indian Cricket Jersey. The shirtfront has seen 6 names since 1993. It was Wills till 1996 extended till 2001, ITC Hotels (2001-2002), Sahara India (2002-2015), Star Sports (2014-2017), Oppo (2017-2019). Ed-Tech Firm, Byju's being the recent name on Indian jersey has been able to capitalize on their plans for overseas expansion (B.K, 2020) as the investment are justifiable with cricket having a base of 1+ Billion active viewer's all-over the world (ICC Global Market Research 2018) & 712 Million cricket viewers in the Indian subcontinent (BARC Think: Cricket in India 2019).
Sponsorship deals may seem to be over-priced many a times especially from a brands perspective (Bansal, 2020), but we cannot just neglect the amount of exposure & recall value a brands gets, when any sort of association is in-play via Sports properties. Risks, dynamic decision making & negotiation are certain aspects of management which are crucial for Sports Sponsorship, and are often over-looked.
There is also a pre-conceived notion that once a brand is popular there isn't the need for extensive branding or to build a deeper connection with our customers. The brand-recall value is very crucial for successful organizations and, via Sports the exposure along with recall-value is significantly higher because of the emotional attachment with a team or a player, which is also the beauty of associating with any Sports property. A beautiful quote by the ice hockey legend Mr. Wayne Gretzky, summarizes the concept of Sports Sponsorship perfectly,
You miss 100% of the shots you don't take.
Also read our,
Press Release: ITW consults OPPO & BYJU'S in the landmark deal,