The empty stadiums do not seem to deterring the screen audiences from returning to live sport as green shoots emerge.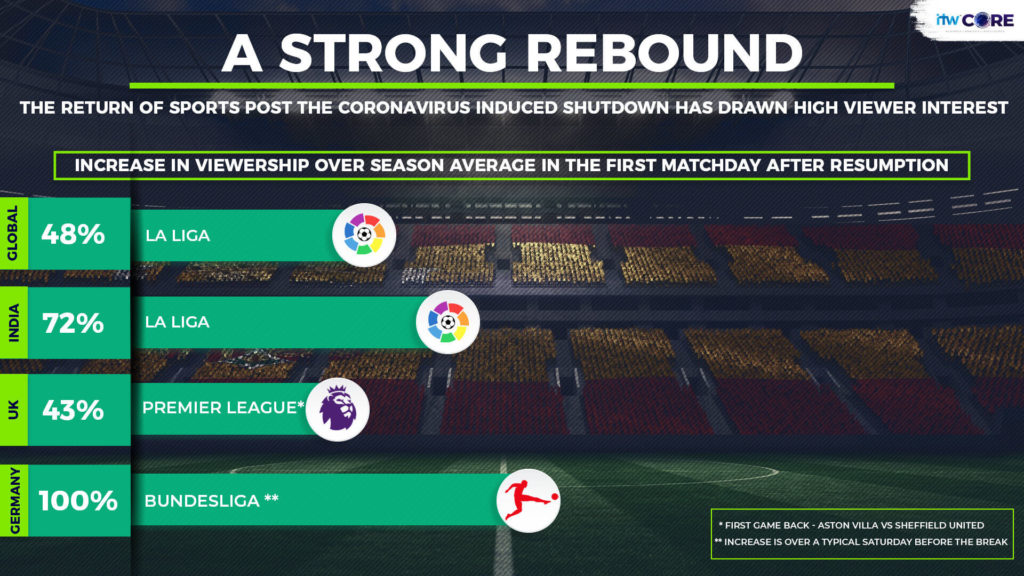 It's been quite a while that all major sports across the world have been suspended, but there are encouraging signs for a full-fledged return. As the action resumed in top leagues across the globe, with various new protocols in place – one of them being the eerily silent and empty stadiums – fans are looking to satisfy their pent up demand for sport through their TV screens. According to a poll carried out by PSB research back in May, fans are five times as likely to be interested or excited about the return of live sports as bored by that prospect. As anticipated, post resumption, there has been a mammoth rise in the consumption of live sports.
Bundesliga, one of the first major leagues to resume post lockdown in mid May, scored high achieving TV and digital ratings not only in Germany but all over the world with ratings on the first matchday being double that of a round of typical Saturday matches. Sky Deutschland, the broadcaster, attracted record figures of over six million across both its linear and on-demand channels. A part of the increase can be attributed to the decision to show its 'Konferenz' show free-to-air on Sky Sport News. These figures will seem even more impressive if one takes into account the fact that Germany is a relatively undeveloped Pay-TV market in Europe. Furthermore, there has been a significant increase even in the UK market where British broadcasters are forbidden from showing matches between 3 p.m. and 5.15 p.m. in order to protect attendances. However, with no matches for fans to go to, this restriction was waived temporarily, and the sports starved fans eagerly welcomed the respite that the resumption of Bundesliga brought along. This led to a 400% rise in viewership of the first big game post return between Borussia Dortmund and Schalke reaching 1.4 million people across television and digital platforms, with a peak audience of 652.000.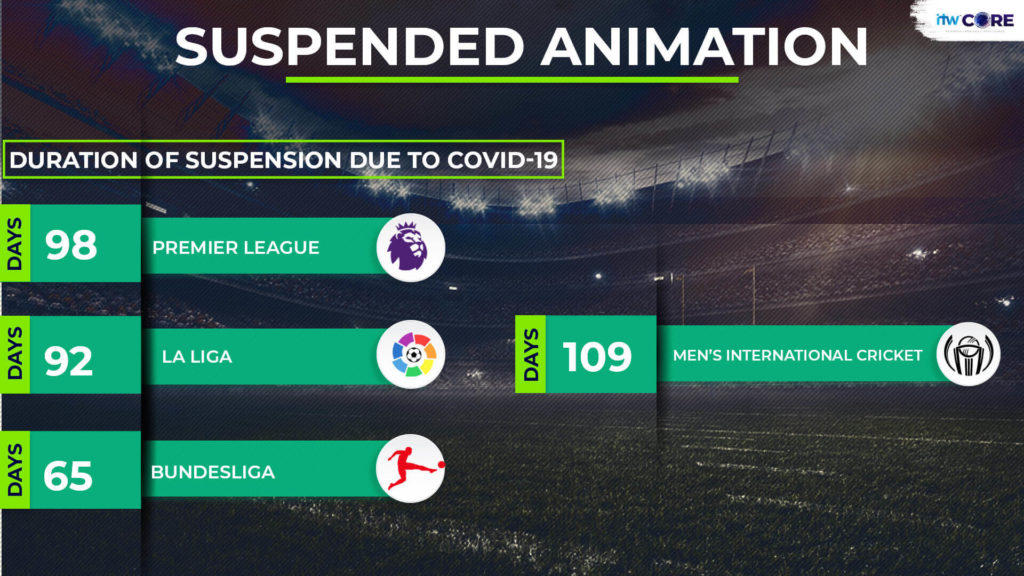 La Liga, the spanish football league too, saw a considerable increase in global figues by over 48%, for its first round of matches on June 11. The viewership in India increased by about 72%, drawing a huge number of digital audiences with the matches being broadcast on the social media platform Facebook. The Premier League return also saw soaring numbers signifying how much fans have missed live action since the virus stuck. A part of the reason for such a surge in demand could also have been the fact that the league was broadcasting through free to air platforms such as BBC as well. Meanwhile, Sky Sports implemented its new fan experience features, and the Sky Sports FanZone allowing customers to join a zoom call with other fans and friends during the games, providing a fan-friendly atmosphere which may have played a role in increased viewership.
Other sports like cricket, which garner a huge fan following in the subcontinent, also saw a steady rise in viewership. The West Indies tour of England was the first major tournament after the sport was suspended in March. That it featured a thrilling conclusion in the first test helped the buzz. Meanwhile, even the Ireland-England ODIs drew significant attention too of both viewers and advertisers. With the IPL set to be staged in the UAE, audiences are likely to flock the screens again, as we all adapt to these new times.