Known internationally as Cricket's finest and most successful captain, MS Dhoni has endorsed multiple brands before, having served as a brand ambassador for TVS and Pepsi, and has done so with utmost professionalism and subsequent success.
Snickers is a brand of chocolate manufactured by American company Mars, and has become a very popularly consumed brand of chocolate in India and across the world. Snickers has always used humour as a prominent tool in all their marketing campaigns, with the slogan "You're not you when you're hungry" being used to hilarious effect in many of their campaigns, ranging from ads in India using young actors, to Superbowl ads featuring famous Hollywood actors and references.
MS Dhoni has long been considered an icon for the larger percentage of the younger population, and is generally considered to be one of the most outgoing, approachable and humorous member of the Indian cricket set-up. This image he has would go hand-in- hand with Snickers' comic-based and youth-oriented marketing technique. "Mahi, you make bad decisions when you're hungry. Have a Snickers and come back. #Dhoni #DhoniStepsDown" is an example of how Snickers uses their humorous approach to marketing, while also managing to relate their tag line to MS Dhoni.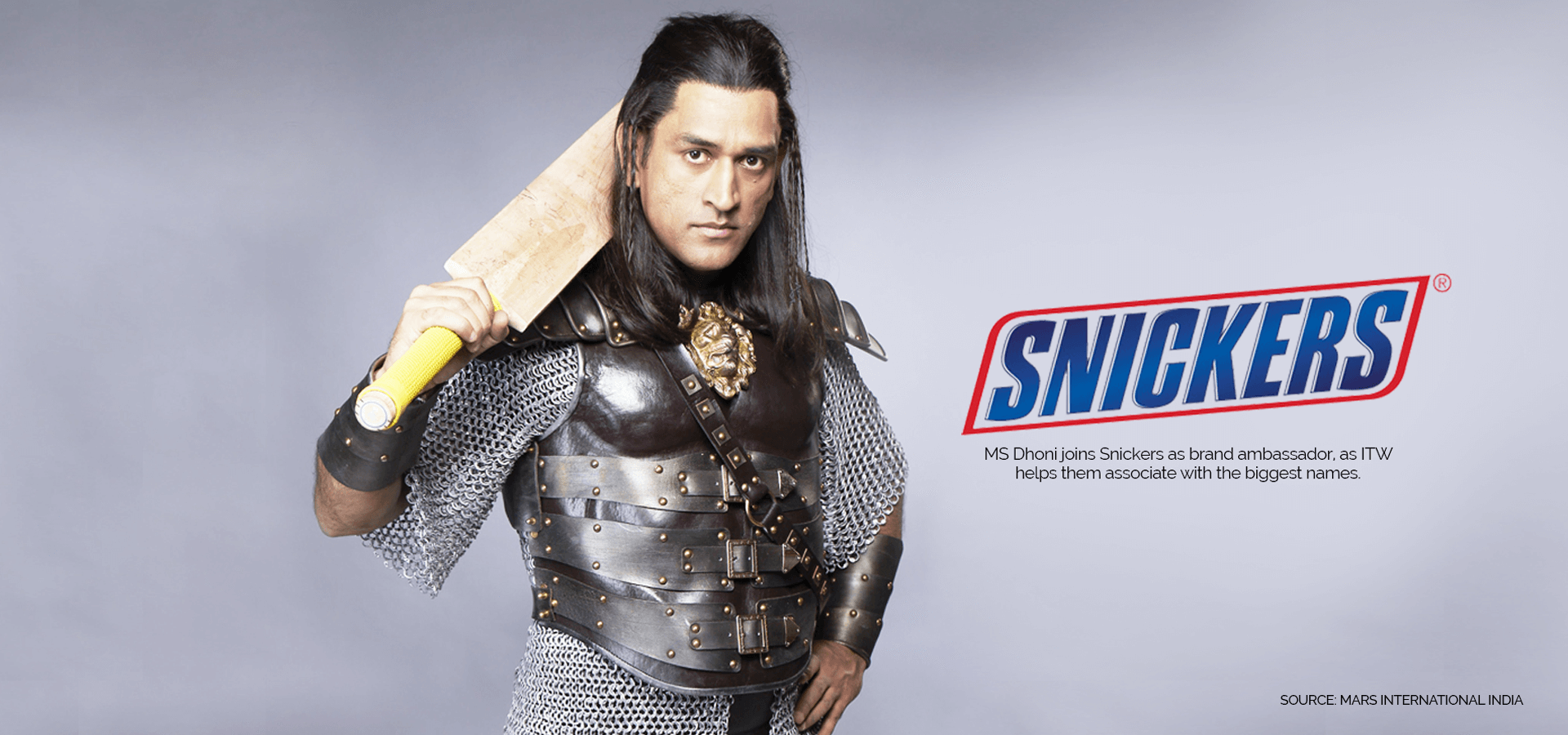 ITW Blitz provides end-to-end global talent solutions and management and aims to offer flexible and quick solutions to all possible branding intent. ITW aims to associate the right celebrity with the right brand, that suits them and the values they stand for.
"This association comes to me as a natural fit as nothing can satiate the angry hunger, as well as Snickers, does"
ITW aims to bring together the best-suited celebrity to all associated brands and aims to provide both parties with the best visibility and brand recall always being the primary motivator.