We, at ITW, are delighted to announce our association with Cricket South Africa (CSA) through our Partners GSC who are the right holders of Ground Rights, Sponsorships, Broadcast Production and also its official International Commercial and Broadcast partner for the Mzansi Super League T20 (MSL T20) for the next five years. The agreement runs from 2018 to 2022. GSC has bought the marketing rights and the commercial sales business of the MSL T20 in India and the rest of the global platforms along with handling the commercial syndication of the league. ITW Consulting, will head the commercial sales business and handle the Commercial Syndication of the league.
The Mzansi Super League T20, a brainchild of CSA, is expected to become a hallmark of the cricketing calendar, and with world cricket's biggest stars coming together to compete, there is no doubt that the MSL T20 will be a massive success in the upcoming years.
The tournament is scheduled to be conducted between November 16th and December 16th, 2018.
According to the expected format, all the below six teams will play off against each other twice in a round-robin format which will be followed by two playoffs to make it a 32-match tournament.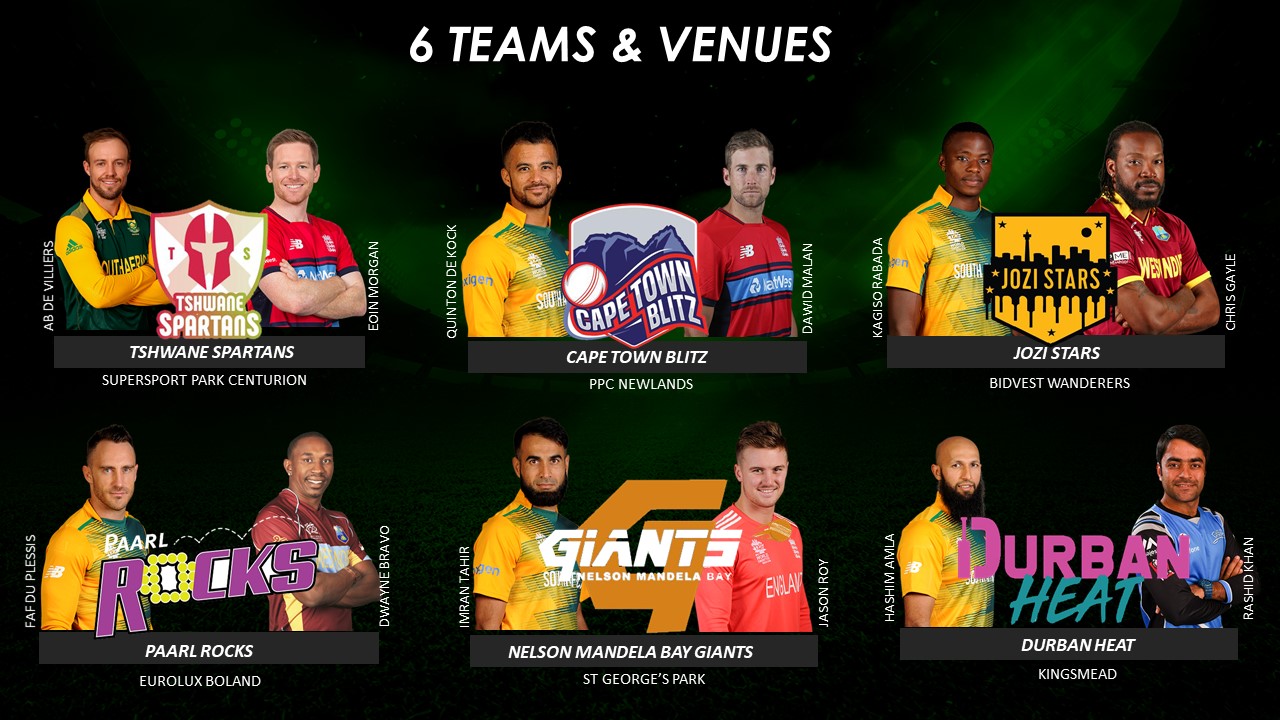 Commenting on the association, M.S. Muralidharan, CEO, GSC said "GSC is delighted to be associated with the Mzansi Super League T20 promoted by Cricket South Africa, We see this as a Milestone Sports asset for Africa as the Sole and Exclusive International Commercial Partner across Television, Digital, and Event Sponsorship.
"The GSC family, including its South Africa-based affiliates, Megapro and Megaview, and our global sponsorship sales affiliate will bring into the event its global technology expertise with cutting edge technologies in Television/Content Production, Event Presentation and Immersive fan experience."
"GSC is committed to providing to the Fans of Cricket – In the Stadium. On the Move and on the Couch – an unmatched visual experience. The brands associated with the event, brought in by our premier commercial arm, ITW Consulting, will gain a superior return on their investment." concluded Mr. Muralidharan.
Mr. Thabang Moroe, CSA Chief Executive said "It gives me great pleasure to welcome GSC and its affiliates on board as yet another global brand that has put its faith in our administration, our governance and our players for a considerable period of time," said CSA Chief Executive Thabang Moroe.
"As their name indicates, GSC having a global sporting presence as a major player in the organization of sporting events around the world and already have considerable experience of South African sport through their investment in Megapro and Megaview.
"They will assist us both financial and with expertise" concluded Mr. Moroe
GSC has been awarded the exclusive on-ground and in-stadia Advertising and Sponsorship Rights for the upcoming Mzansi Super League T20 to be played in major venues across South Africa.
GSC & it's affiliate ITW has consistently maintained an excellent relationship with the South Africa Cricket Board and has been a long-standing partner to South African Cricket in various home tournaments here, while we have also been one of the key On-Ground Rights holders over the last several years.
As a leading global player, ITW/GSC specializes in crafting and executing multi-faceted brand management solutions across sports, entertainment, and media for its clients, helping them create global visibility, awareness, and recall amongst a wider target audience.
Also, having been involved actively with various sporting events and arenas globally and more specifically with On Ground Branding and Advertising for a long duration, ITW/GSC is confident of bringing the right kind of sponsors and brands to the field, and in return give back the right value and mileage to the brands for the buck they spend.
Bhairav Shanth, Managing Director & Co-Founder of ITW Consulting, "One of the key factors contributing to ITW's keen interest in the MSL T20 rights acquired by our partner GSC, is in having a strong sales know-how in the Rainbow nation, while also understanding the market realities there. We are confident of roping in big brand partners from India and across the globe to be a part of the MSL T20 and to celebrate the true spirit of the game which is the essence of the tournament."