A New Pie Recipe: How The Pandemic Is Altering Football's Revenue Model
As the action resumes in the top 4 football leagues across Europe, football looks markedly different from what we have been used to. The big change, however, is behind the scenes as clubs' revenue models get upended.
ITW Core's Vidushi Bhandari looks at how, and at what's next.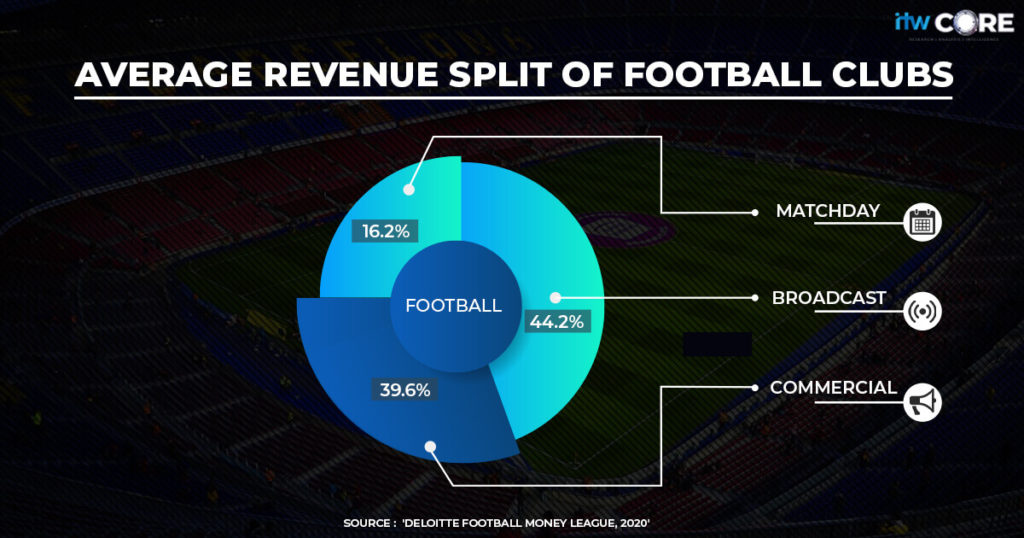 Not a lot of instances have the capacity to halt the unabating, steady force that is European football, but the coronavirus is seeing its effect in all statutes of life, particularly in contact sports. Legendary composer Dmitri Shostakovich once said about football that it is the "ballet of the masses", however, the game's apparent inexorability had to see an unexpected interval this March, as the global pandemic seeped its way into the European nations. This not only left the fans dismayed, but also the leagues distressed.
HOW THE PIE IS SPLIT
The high earning football clubs have multiple sources of revenue, with the top 20 clubs collectively generating over 9 billion euros of revenue in the 2018/19 season. Broadcast is the largest individual revenue stream for clubs, accounting for about 44% of it. With FC Barcelona becoming the first club to break into the 800 million euro revenue mark, the clubs are increasingly using the power of their brand for new and creative ways to market themselves, and thus, increase revenues. As FCB notably bought its merchandising and licensing activities in-house in order to reduce third party reliance, more and more clubs are now trying to focus on growing the revenue within its control instead of relying solely on broadcasting revenue. This has enabled the commercial revenues to skyrocket, grabbing a huge chunk of the pie at 39.58%. Matchday revenue comprising ticket and other forms of sales is expectedly the lowest contributor to the overall revenues at about 16%, however this still amounts to a whooping 1.9 billion euros collectively for the top 20 clubs.
HOW THE PIE IS NOW DIFFERENT
As the action resumes in the top 4 leagues across Europe, football now looks markedly different than what it has known to have been since its advent in the 12th century. The recent French league broadcasting dispute of broadcaster Canal Plus citing force majeure and refusing to pay the obligated 110 million euro installment on this season's Ligue 1 and Ligue 2 fee due to league suspension, points to serious broadcasting revenue troubles for clubs. Rebates to broadcasters and commercial partners might considerably dip clubs' earnings this season. In the latest development, The Bundesliga, who became the first major European League to agree to a new broadcast deal post the pandemic, has had a 200 million euro drop in the TV rights value, its first drop since 2002, suggesting a sluggish market.
As social distancing norms are in place, the eerily silent stadiums with no spectators have meant a complete collapse of matchday revenue for the clubs, as they will have no earnings from this stream for at least the remainder of this season, and depending on the pandemic's trajectory, may be even some of next. The top 5 European leagues are estimated to incur a total loss of upto $710 million in matchday revenue. The English Premier League stands to lose the highest amount of revenue from this stream with 92 matches to be played indoors, losing an estimated $213 million. La Liga with 110 matches to be played will absorb a loss of over $171 million. The Bundesliga closely follows behind with a $160 million loss by its 83 matches being played without crowds. Serie A will also suffer a heavy loss of $105 million owing to the new normal in the game and Ligue 1 will lose up to $60 million due to its abandonment of the season with just 280 matches played.
WHAT NEXT
Given this devastating drop in income, clubs and leagues will try to look at new potential sources of revenue generation. Clubs whose financial year ends on 31st May or 30th June, can use the unusual receipt of broadcast money this season to boost income in the 2020/21 season accounts to presumably ground breaking numbers. The silver lining for clubs might also come in the form of more lucrative TV and broadcasting deals, softening the blow of the crisis. Further, leagues playing more number of matches per day can potentially increase advertising revenue.
However, with a new way of living coming into effect, clubs will now need to leverage their image and brand more than ever in order to even begin to recover their lost income. Big football clubs around the world are considered to be iconic brands with their fan following passed down from generation to generation. As the traditional sources of revenue generation become somewhat stilted, clubs will need to exploit their full value like never before, using digital modes to drive revenue growth for the most popular sport in the world.